Bastion Review
Thursday, July 21, 2011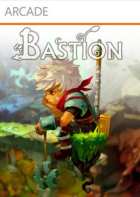 | | |
| --- | --- |
| Game Name: | Bastion |
| Platforms: | Xbox 360 Arcade |
| Publisher(s): | Warner Bros. Games |
| Developer(s): | Supergiant Games |
| Genre(s): | RPG |
| Release Date: | July 20, 2011 |
| ESRB Rating: | E 10+ |
Maybe, if not, the most anticipated game for this year's Summer of Arcade title and it is also the lead off to kick of the XBLA release per week. To say the least the game is beautiful and incredibly well done with hours of game play and amazing backgrounds. WB Games has release one of the perfect arcade titles and it doesn't disappoint.
The title has already won more than 15 industry awards and nominations at E3, including nominations for Best Original Game and Best Downloadable Game from the Game Critics Awards.  Developed by Supergiant Games, Bastion is the first title to be released for the Microsoft Summer of Arcade lineup.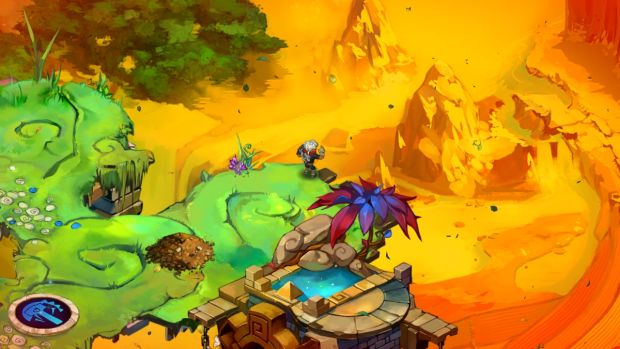 In Bastion, players take control of a character known as the Kid, who is thrust into a world that has literally crumbled around him in a great Calamity. He must now construct a safe haven and build a new world from the remnants of the past. The game features lush and imaginative artwork as well as an innovative reactive narration system that responds to the player's actions in real time all throughout the adventure. Bastion includes more than 30 areas to explore set in several wildly different environments, a variety of weapons and upgrades to discover, and a deep storyline to unravel.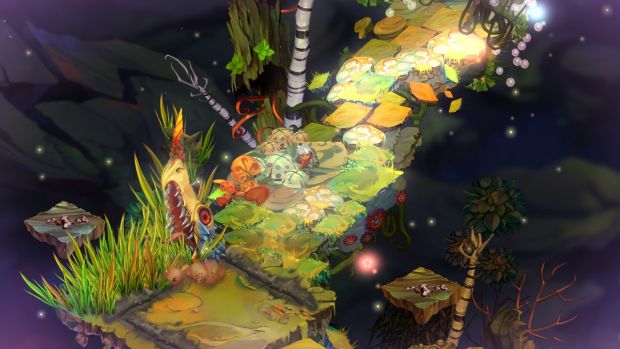 The narrator is done by Logan Cunningham and he has the voice to fit perfectly and is also responsive to actions that you do in game. The game never has a dull moment with Cunningham always having a thought or something to say to help guide you on your quest to build a new city.
PRODUCT FEATURES:
?  Reactive narrator – Bastion introduces a one-of-a-kind reactive narration system, which gradually reveals a rich back story as the narrator reacts to the player's actions, allowing for the player to have a truly personalized gameplay experience. The game features thousands of lines of narration. No player will be able to hear it all the first time through the game.
?  Lush, hand-painted world – Bastion is presented in a high-definition, richly-detailed painterly art style, which enhances the fantastical world design and immerses players in the unique setting and atmosphere.
?  Nimble, active combat – The game offers exciting, highly responsive moment-to-moment action that rewards player skill and experimentation, allowing players to develop their own unique fighting styles by mixing and matching from a large variety of customizable weapons, each with their own special moves and mechanics.
?  Frequent gameplay customizing choices – Bastion features many customizable elements including an array of weapons and upgrades as well as a special system that allows players to raise game difficulty in exchange for greater rewards.
Grand adventure – This is a full-length experience offering 8 to 10 hours of fully narrated gameplay. Once players finish the journey, they unlock a "New Game Plus" mode, which introduces additional content and new ways to play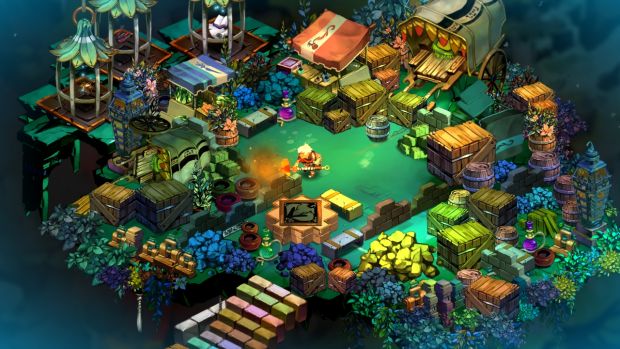 The object of the game is to make a safe haven for your people to live because of the destruction of your world, you journey thought out the different lands to find pieces of a core to help you repair and build. As you go about this you find new weapons, guns and secret abilitys to help aid you. You level up by defeating enemies and gaining XP.
Each time you level up you unlock a slot to add a upgrade to your character, this is insanely helpful and can also be used to get you out of a jam, you do however get 3 healing potions that can be used at anytime by pressing the "Y" button. Don't worry about using them because you can find potions all over. As for the weapons, Bastion features tons of weapons and each of them are upgradable, meaning you can upgrade the ammo capacity, reload time and damage that weapon will do. Bastion did not leave anything out and made sure the game draws the player in and also ensures a good time while playing!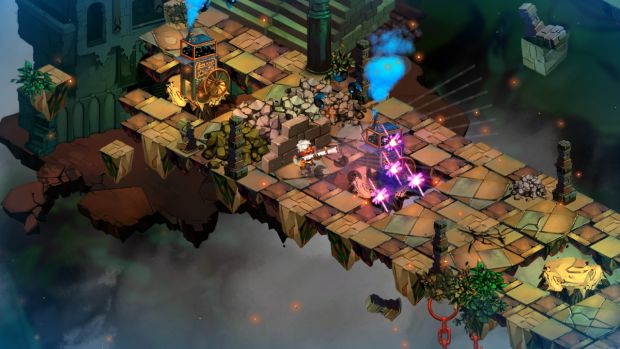 The artwork for the backgrounds is just a treat and pleasant to look at, each background is hand painted and you can see the detail, time and devotion that went into bringing Bastion to life. Not enough can be said about how truly amazing the game really is. As you play the game the levels and walkways form right in front of you as if you are watching a jig saw puzzle being put together as you play the game, one of the best things we have seen in a long time from a game, let alone a download arcade game.  To add to the amazing gameplay and length of the game (which sits at around 6-8 hours for one playthrough) is Bastion offers a "New game plus" after you beat the game, meaning that you can keep all your upgrades and start the game over and try different things without losing your characters level or anything.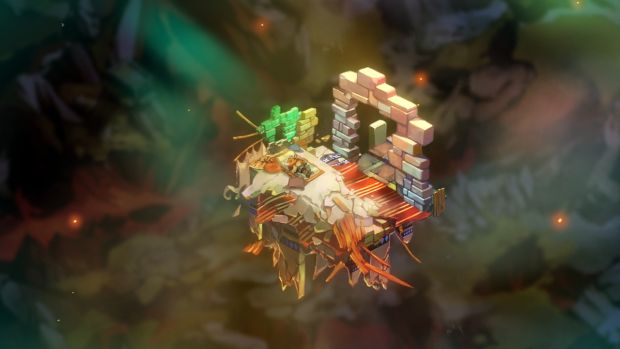 Bastion is just a amazing game hands down and is a great start to Summer of Arcade line up. If you choose to only get one title this summer, then Bastion is your game! It features more then you could ask for and delivers on every level. We can't wait to see what Supergiant Games does next!
Game 2 Gamer's Final Score 5 / 5
Frustration Level