Castlestorm: Definitive Edition Review
Saturday, September 20, 2014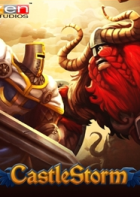 | | |
| --- | --- |
| Game Name: | Castlestorm: Definitive Edition |
| Platforms: | Xbox One, PlayStation 4 |
| Publisher(s): | Microsoft Studios, Zen Studios |
| Developer(s): | Zen Studios |
| Genre(s): | Action, Strategy, Brawler |
| Release Date: | September 24th 2014 |
| ESRB Rating: | T |
CastleStorm: Definitive Edition serves up a hilarious mix of medieval warfare, 2D physics-based destruction, and tower defense, with some melee brawler action thrown in! It also features a story-driven solo campaign, a custom castle editor, online multiplayer, co-op modes, and more. This version of the game will feature the entire original campaign and expansions, plus new content including new battles, modes, and spells and features. This new version of our hit action-strategy-tower defense game brings some new features to the fold, as well as both DLC packs, "From Outcast to Savior" and "Warrior Queen". It also includes 1080p resolution on both PS4 and Xbox One, improved textures and character models, and voice support (requires Kinect for Xbox One and PlayStation Camera on PlayStation 4).
Giving anyone the benefit of the doubt if they have yet to play this, it is time to grab a copy of it and give it a play through, or 4! The point of the game is simple; destroy the other castle and don't let them destroy yours. There are a few different modes like capture the flag. You control the armies, the spells and the ballista. By using a combination of everything and learning to mutli-task will definitely give you an advantage.
After learning the ropes of the game you begin to start the campaign of you can play multiplayer. One of the awesome things we liked about this game was the fact you can change it up with having your hero teleported to battle where you get to control him for 30 seconds at a time. (This is like a spell casted, once casted you have to wait for it to recharge before you can teleport the hero into battle again.) When you do this, it makes the game into almost a hack-and-slash. Very fun.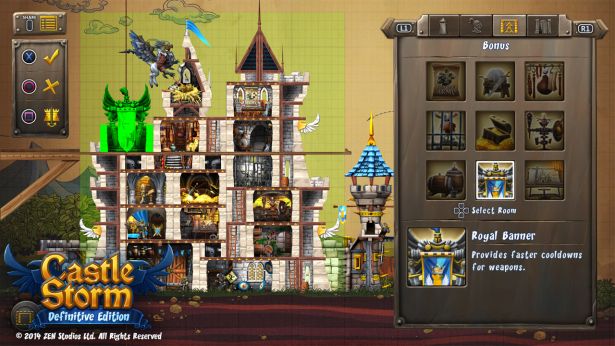 When controlling the ballista you have different types of projectiles that do different damage and are better for certain things. The basic projectile is a javelin and while different armies, Vikings, etc.) Have different projectiles they all work about them same but others do more damage and different attacks. You can pick off enemies with the ballista by just plugging them full of javelins or you can even do head shots. You will always his the ability to produce armies such as troopers, archers, knights and more. These will come out on the battlefield and attack any enemies on the field or they will go to try and capture the enemy's flag. We found that when you decide to go this route, to teleport your hero into battle once your troops reach the flag to try and protect them on the way back. Just a hint for you all.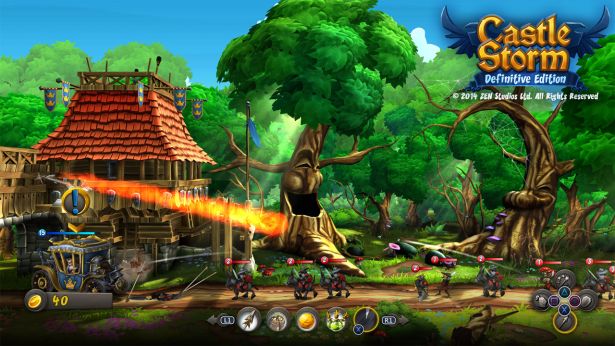 You will also get the chance to upgrade your troops, spells, and projectiles. By doing so increases the damage and wait time you have to wait for the spell to work again or to send your hero back into battle. The upgrade level does max out at level 20, but be careful, it does get expensive to get to that 20th level, so it's best to even out all your upgrades and progress what you think you need the most. Spells come in handy as well when fighting off a large horde of bad guys barring down your castle door, you can cast spells to destroy enemies, protect you men and castle. Upgrading this is a must!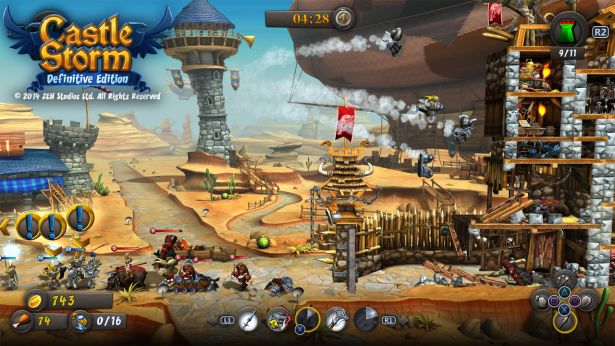 The campaign mode has some length to it; you get to play different sides of the coin. You also have side missions that are fun to do and can help you earn more gold to purchase upgrades to help later in the game. The graphics are eye pleasing and give you the since of the humor that Zen Studios puts into their work. The controls feel great with no problems, except if you can't aim, then you may try to blame the game ?.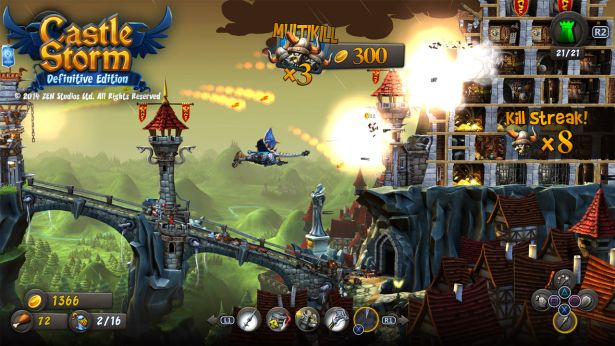 Castle storm definitely sucks you in, once you play a few missions, you might tell yourself that after the current mission you will spot, but then you come to find yourself playing 6 more! It is addicting to say the least and with such a high replay level it makes for playing more and more to try and beat your best score or how many stars you got on past levels and missions. Plus with the online modes you can keep the battle going well after you've beaten the campaign mode. With the final thought we have to say Castlestorm is worth picking and playing, no matter what type of gamer you are!
Game 2 Gamer's Final Score 3.5 / 5
Frustration Level

Replay Value Mid-High