Earth Defense Force: Insect Armageddon Review
Sunday, July 10, 2011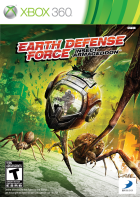 | | |
| --- | --- |
| Game Name: | Earth Defense Force: Insect Armageddon |
| Platforms: | Xbox 360, PS3 |
| Publisher(s): | D3 Publisher |
| Developer(s): | Vicious Cycle Software, Inc. |
| Genre(s): | Action |
| Release Date: | July 5, 2011 |
| ESRB Rating: | T |
Thousands of giant insects and aliens once again ravage the earth, and only the Earth Defense Force can stop them. Defend the city of New Detroit against an infestation bigger and meaner than ever before. Destroy these monsters at all costs, even if it means turning entire city blocks into rubble!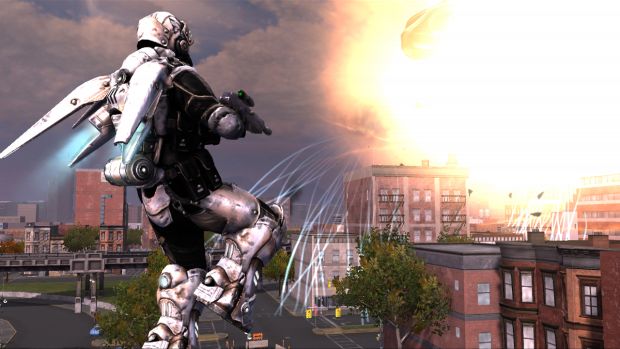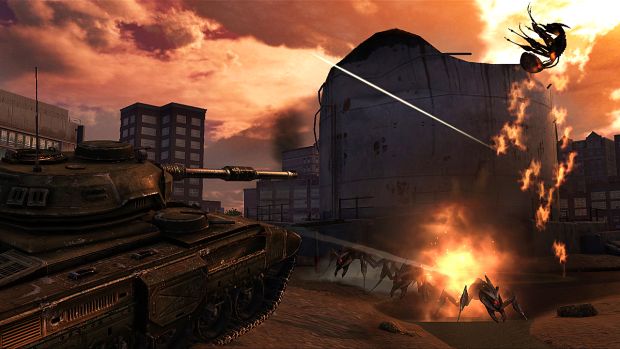 As you start a new campaign of EDF Insect Armageddon you get to chose between 5 different types of classes, ranging from a soldier, a heavy gunner to a jetpack, but don't worry because you can change your armor at the beginning of each mission and you can try them all! Each armor type has its bonus' and weakness, the Heavy army is slower as a Trooper is more mobile and has more speed but less armor, all of these options come into play.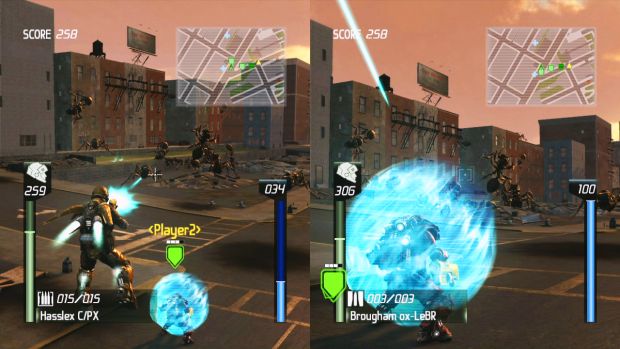 D3 Publishing made a complete upgrade in EDF Insect Armageddon with there being 300 different weapons and upgrade, usable turrets and Mechs you can hop into and control. But one of the features we loved that was added to the sequel is the customization of the color of the armor and weapons you carry. As you rank up you unlock more different weapon tiers and options. Weapons are also hidden around the city and can be found and added to your arsenal. Each different armor class has a special ability, our personal favorite that helped us in the game is the Trooper, he has the ability to deploy a mini turret the mows down enemies and acts as another part of your team. This is very useful when being overrun by all type of monsters and insects. This can also provide cover and get you out of a tough spot if you're in need of health or need to find cover.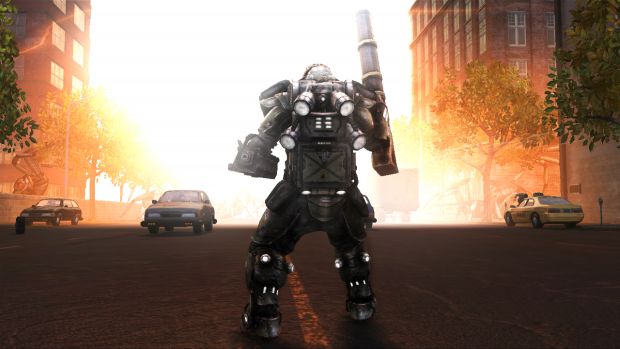 The follow up to the cult hit Earth Defense Force 2017, bigger and better than ever
• New! Intense squad based action with 3 player online multiplayer start to finish, and 6 player survival mode
• Split Screen Co-Op returns for local multiplayer action
• Hardcore 'Inferno Mode' for elite gamers
• EDF's trademark gameplay: Killing thousands of swarming giant bugs and robots in a completely destroyable city
Raw arcade shooter satisfaction on a gigantic modern scale
• Over 300 weapons: assault rifles, rocket launchers, energy weapons, sniper rifles, grenade launchers and more!
• 4 upgradeable armor types: Jetpack, Battle, Tactical, and Trooper
• Massive replayability through arcade style scoring, tons of weapons to collect, and multiple difficulty levels in every game mode!
The insect invasion has begun as D3Publisher (D3P) today announced that Earth Defense Force: Insect Armageddon (EDF) is now available in North America for the Xbox 360® video game and entertainment system from Microsoft and PlayStation®3 computer entertainment system. Earth Defense Force: Insect Armageddon takes place in the fictional city of New Detroit, where players will engage in nonstop hardcore arcade shooter action that is the fastest and deadliest in the series against a seemingly unstoppable swarm of insects and giant alien invaders. Earth Defense Force: Insect Armageddonis available at retail stores nationwide for the suggested retail price of $39.95.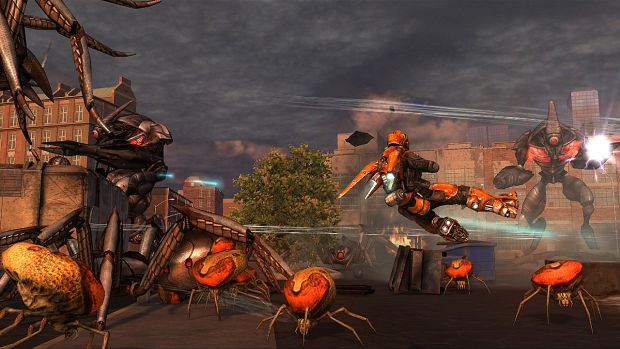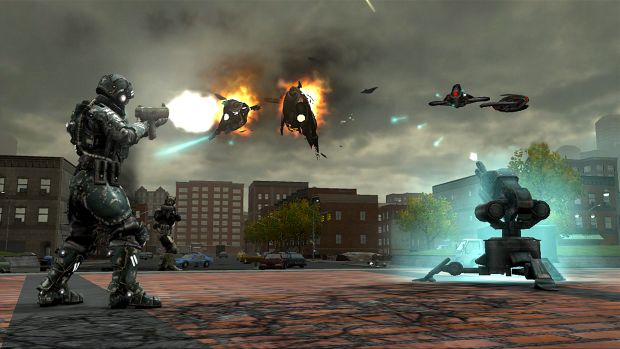 "Since the launch of Earth Defense Force™ 2017 in North America, gamers have expressed their excitement about the hardcore fun and addictive gameplay that features the insects from outer space which has catapulted the franchise into a core gamer classic," said Peter Andrew, vice president of product development, D3P. "Earth Defense Force: Insect Armageddon follows the rich tradition of Earth Defense Force 2017 but this time features over 300 weapons, four upgradeable choices of armor, improved graphics, fully destructible environments, and online play for the first time in the series to make this the best EDF experience yet."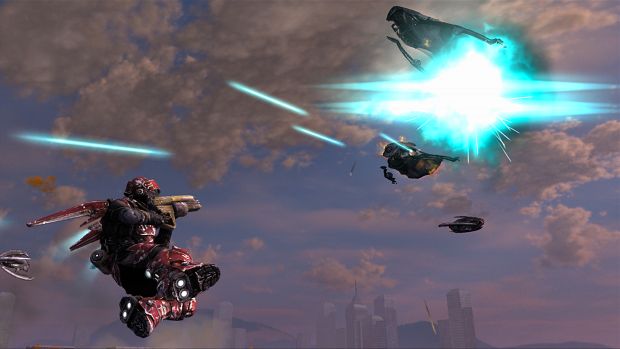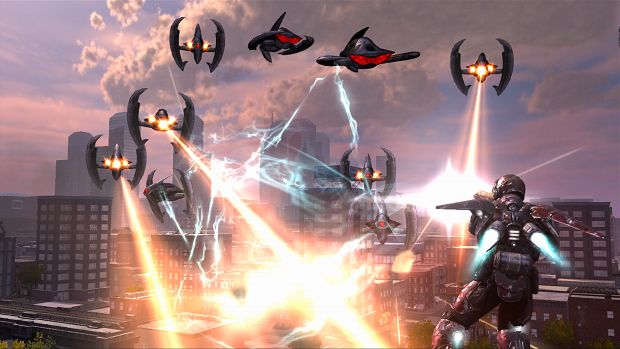 In Earth Defense Force: Insect Armageddon, players can now participate in Campaign mode via online co-op for up to three players, or grab a friend and play in split-screen against the insects and aliens across a completely destructible city. Every EDF soldier can collect over 300 weapons and can choose from four upgradeable armor sets including the vaunted Jet Armor for battles on the ground and in the air. In addition, the game also features a six player Survival mode that pits a human squad against a nonstop onslaught of the largest enemies the aliens have to offer. Earth's giant bug problem is unavoidable, and mankind's last hope lies with the Earth Defense Force. Defend the world from the insect invasion, even if it means blowing up the entire city as part of the extermination process.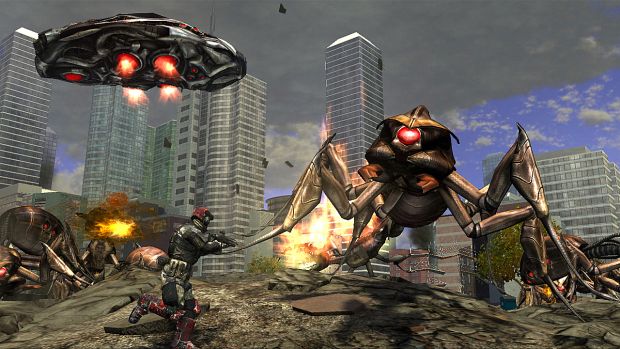 Earth Defense Force: Insect Armageddonis developed by Vicious Cycle and is rated "T" (Teen – Animated Blood, Mild Language, Mild Suggestive Themes and Violence) by the ESRB. For more information on Earth Defense Force: Insect Armageddon, please visit www.edfia.com and find Earth Defense Force: Insect Armageddon on Facebook at www.facebook.com/EarthDefenseForce.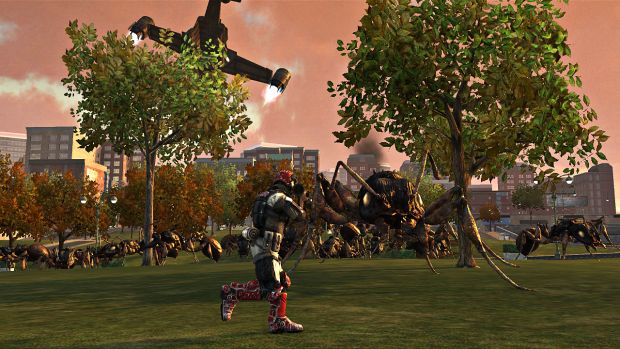 The game play itself is rather smooth and enjoyable. The graphics are indeed using the next gen system and it can be tweaked to offer more, but it is such upgrade from EDF 2017 release. A feature or part of the game we should say is everything, and we mean everything is destructible, buildings, cars anything you see you can take down when in the middle of combat and have people running for their lives and screaming as you take down giant ants, huge spiders, flying ships and more. It could almost be a live action summer flick!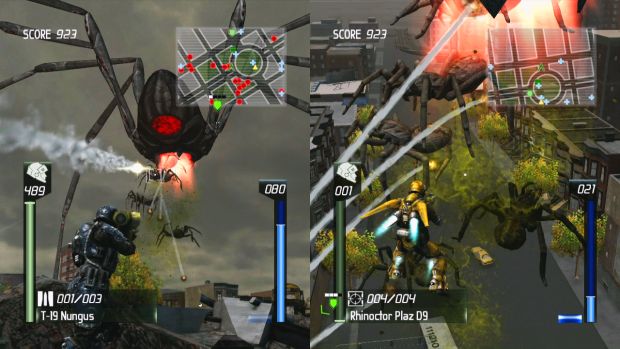 The controls this time around feature more actions and options, you can run, jump dodge and more. So D3 Publisher didn't leave anything out this time around and made a game that players and gamers alike will actually want to play. With over 300 weapons to choose from to get the job done and completely upgradable armor just adds to the game nicely. This is a way for you to go back and redo missions with different combinations and try to find the best way to get through a level!
Earth Defense Force Insect Armageddon features online and local co-op campaign mode, yourself or a player can jump right into the action and help you out in tough to get through spots in the game and work together. This was amazing, the split screen is back and it's nice to sit on the couch with a friend or buddy and have a gun you can both play instead of taking turns playing and secretly hoping for your friend to die so you can show 'em how to get the job done! EDF Insect Armageddon also features a Six player online survival mode. This is basically a "horde" mode, you team up with up to 6 players to fight endless waves of enemies and with each wave the enemies get tougher and harder to beat. Make sure to pick your armor and character wisely to survive!
D3 Publisher has cam through and delivered us a game we can play and have fun with, with a price tag of only $39.99 the game is well worth it with the amount of gameplay, customization and now online play is a must try out for any gamer!
Game 2 Gamer's Final Score 3.5 / 5
Frustration Level