In a roughly translated interview Sony's Playstation of America Shawn Layden sits down with German news Outlet golem.de to talk about the future of PlayStation
Saturday, June 24, 2017
SHAWN LAYDEN IN THE INTERVIEW

:

Sony puts on real PS 5 instead of console revolution
A clear refusal to playstation evolution on a smartphone model, as well as statements on lace games and the casual market: Golem.de spoke with Shawn Layden, the head of the North American Playstation division of Sony .
Shawn Layden is the face of the big Playstation press conferences at E3, which he has moderated over the last few years. Above all, Layden is the head of Sony Interactive Entertainment America and Sony Interactive Entertainment Worldwide Studios, that is, the developer studios of the group.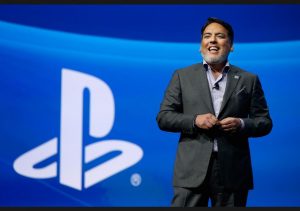 Layden has been with Sony since 1987. The manager worked in Tokyo closely with the legendary company co-founder and long-time corporate executive Akio Morita. He then held leadership positions in Europe and then in Japan, before taking up his current post in 2014. Golem.de spoke with him on the edge of the E3 2017 fair in Los Angeles.
Golem.de: When will the first game, which runs on the PS4 Pro – but no longer on a Playstation 4?
Shawn Layden: That will never happen!
Golem.de: Is the Pro not the entry into the business model, that like evolution of hardware takes place as with smartphones – instead of every few years a whole new generation to build up?
Layden: With the Playstation 4 Pro we have for the first time implemented this kind of innovation within the life cycle of a console.The pro is really only to offer advantages such as 4K resolutions and HMD for players who can and want to use that. Add to this a more stable image rate and larger hard disk space. But who has a standard PS4 has no real disadvantages. Each of our games will continue to run on the classic PS4 and possibly slightly better on the Pro.
Golem.de: This means that you are more likely to rely on a real Playstation 5 – whenever that will be?
Layden: Yes. It will probably be some time.
Golem.de: They had leadership positions with Sony in Europe and Asia, are now in the USA. How different are the players and markets from your point of view?
Layden: Players have more in common than differences, and they evolve in one direction, toward more quality. With a really good game, you can now have success everywhere.
Twenty years ago, it was my job at Playstation Japan to bring the Asians to Western games, which was extremely difficult. At the time of the first Playstation, there were the best games and the best studios in Japan. Square, Namco, Koei, Sega and so on. The product quality was extremely high – partly due to the fact that some of the titles were taken by Arcadeautomaten, like Ridge Racer and Tekken. Fantastic games were that!
The western developers could not keep up, we had titles like Twisted Metal and Jet Moto, or Destruction Derby from Europe. After all, Wipeout came from Europe, which with its great production expenditure was also relatively successful in Japan. My biggest success in Japan was surprisingly, however, games based on Formula 1.
Today the differences are smaller. A real specialty in Japan are games based on manga and anime. They are enormously successful there and can be marketed only to a limited extent in the West.
In the US, on the other hand, we have the greatest demand for shooters and after action adventures. The difference between the US and Europe is not so huge. The markets will be more similar, but only for certain games.
Golem.de: In your opinion, which of the current games from Sony is particularly compatible with this world market?
Layden: Horizon Zero Dawn. It is interesting for Japanese players because it has a lot of game depth and rolling elements. And here in the States as well as in Europe it is also very successful. Guerilla Games has really delivered a top title.
Golem.de: At the moment one large production after the other appears, in the next months goes so far. Is there anything like a saturation of the market?
Layden: Mostly I am asked why there are no more games (laughs). But quite seriously: We have sold around 60 million Playstations 4, the number continues to grow strongly. Of these 60 million users out there, not everyone will buy the typical four games a year. We have bigger niches through the larger base, so we can also use and want to play with the players who are only interested in Action Adventures.
But it's true, 2017 is really a fantastic year. If it is after me, there can be but also not enough good games.
Golem.de: Are important publishing deadlines important?
Layden: Games are a bit of a business, and timing is very important. By the end of the year, people simply had more money. But it changes a little. Horizon Zero Dawn, for example, was released in February and very successful. Batman Arkham Knight came out a few years ago right after the E3, and the demand is almost exploded.
We can now publish the really high quality titles almost at any time. It is difficult if almost the same time a similar top game appears, as was the case in the last year's business.
Golem.de: Will there be a phase at the Playstation 4, where Sony – similar to the PS3 – increasingly concerned about casualgamer, with titles such as Singstar or Little Big Planet?
Layden: We want to continue growing with our platform. The first 60 million are the simple 60 million – the second 60 million are the real challenge. This also means, of course, that we have to address more target groups, which can not yet start with a PS4, for example because they do not like first-person shooter. We also take care of these people.
One approach is Playlink. This allows you to use your smartphone to control – a gamepad is for many beginners at least initially complex. But as with every Playstation generation, we have to expand the target group gradually. The Spider-Man game will help us. Everyone knows Spider-Man, with this brand we can win new players.
Golem.de: How do you rate the market for virtual reality and VR games?
Layden: We have released Playstation VR last October. Since then, we have sold just over a million VR headsets – which is simply because we have not produced any more. The unit sells very well, in many markets we were sold out. In fact, we expect that as of June 2017, we will be able to meet demand.
As far as the games are concerned, we still try to figure out what the customers really want.This reminds me of the early days of the Playstation, because our developers had to learn only gradually. I find this very exciting!I'm also still experimenting on it – Resident Evil 7 was just hardcore for me in VR mode (laughs).
Golem.de: What was the last game you played?
Shawn Layden: I play quite a lot – most games but only about a third, then I start with a new one. The last thing that really caught me for a long time was Destiny. Since I have completed everything essential – even if you can not actually really finish Destiny.