Infamous 2 Review
Thursday, June 9, 2011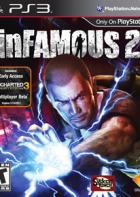 | | |
| --- | --- |
| Game Name: | Infamous 2 |
| Platforms: | PS3 |
| Publisher(s): | Sony Computer Entertainment |
| Developer(s): | Sucker Punch Productions |
| Genre(s): | Action |
| Release Date: | June 7, 2011 |
| ESRB Rating: | T |
inFamous 2 is a 3rd person action sandbox game where you again play as Cole MacGrath, who returns with his electrical superpowers from the first game. During the story Cole has to make many choices that effect the game and his karma, allowing you to choose between creating a good or evil superhero. A choice that has a direct effect on how others interact with him and how is powers evolve.
The story picks up with Cole getting ready to travel down to New Marais. Cole is heading there to search for a way to increase his powers to be able to stop the impending destruction from The Beast. Not much is known of The Beast other than it is set to end all life in the world, and Cole may be the only man alive who can stop it.
The game runs smoothly with impressive graphics and  beautiful cut scenes, and the controls are just as responsive in their second outing. There are a few minor issues when climbing up the side of a building where you try to jump for a spot, and end up hitting your head on an overhang you didn't notice, which at times can be frustrating. Overall though the same great game play from the first with a few new tweaks make for an excellent experience.
User generated content seems to be the new rage, and inFamous 2's got it. Users will be able to make their own missions ranging from a simple race to longer story involved quests. One of the great aspects is if you feel like a user-generated mission you're playing can be improved, you can edit and republish it with no hassle.
The first thing I noticed when starting up inFamous 2 is that it carries data over not based off your save file but from the trophy's you earned in infamous 1. It's a great and interesting way to carry over info as it helps anyone that has lost their save file; I hope more developers use this in the future. It Is a small feature, but an awesome one at that!
On my first play through, I went down the path of Good Karma. I found it a little more of a challenge as you have to watch to make sure citizens are not in the way of your attacks. There always seems to be a person being robbed or a bomb to defuse that pops up as you run around and it gives you a great feeling of accomplishment as there is always someone to save. On the flip side there seems to be lots of chances to do evil things such as beating up cops or taking out protesters but I have been waiting till my second play through before going evil.
As you explore the city you will run across some missions that lean towards good or evil. As I've been doing the good missions it in turn locks out the evil ones. The game will take at least 2 play troughs to see the differences in story and how people react to you. It's great to try the game both good and evil.
inFamous 2 has a lot to offer with the different karma paths and you are sure to play through it at least twice to see how the story changes and to get to try out all the power types. With user-generated missions you can get many hours of gameplay out of it: you're always seeing something new. The story is great and who doesn't like to run around playing with superpowers?
If you have yet to play inFamous 1, you should do so you can see how Cole gained his powers and the trials he went through to get to where he is at so far. You can pick up and play the 2nd, but its better if you have tried the first. If you have a PSN account inFamous 1 will be one of choices you have in Sony's welcome back promotion for PSN where you get to pick 2 games out of 5 to keep as a reward for your patience through the PSN outage.
Game 2 Gamer's Final Score 4/5