Kingdoms of Amalur Reckoning Review
Monday, February 6, 2012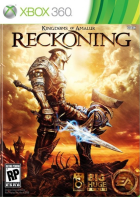 | | |
| --- | --- |
| Game Name: | Kingdom Of Amalur Reckoning |
| Platforms: | Microsoft Windows, Xbox 360, PlayStation 3 |
| Publisher(s): | 38 Studios, Electronic Arts |
| Developer(s): | Big Huge Games, 38 Studios |
| Genre(s): | RPG |
| Release Date: | Feb 7, 2012 |
| ESRB Rating: | M |
Choose your own path and battle through a sprawling master-crafted world featuring some of the most intense, responsive, and customizable RPG combat ever. This mysterious and magical new fantasy world has been meticulously built from the ground up with help from three Visionary's: New York Times best-selling author R. A. Salvatore, Spawn creator Todd McFarlane, and Ken Rolston, lead designer of the critically acclaimed RPG Elder Scrolls III Morrowind and Elder Scrolls IV Oblivion.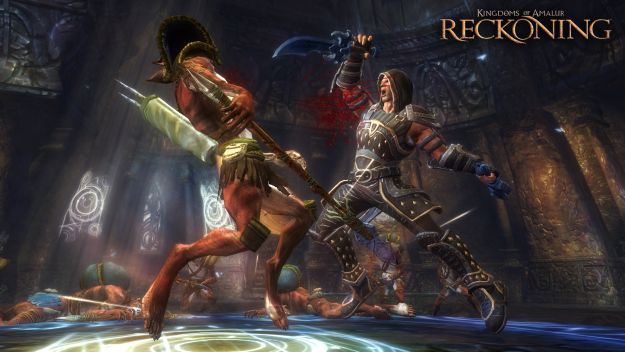 The lore of the Kingdoms of Amalur spans 10,000 years of epic fiction, with Reckoning capturing a moment in history. Asthe first warrior ever to be be resurrected from the grips of death, players can turn their lack of a destiny to their advanture and harness fate as a weapon. Every building, tree, and creature has a clear and defined history within this immersive world filled with extraordinary landscapes, mysterious cities, colorful characters, and fantastic creatures.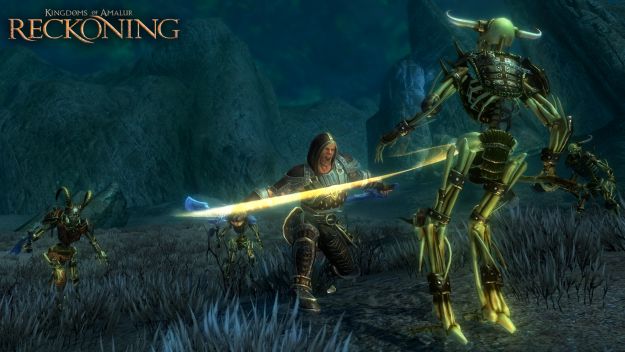 • Intense Action Combat in an RPG – Create your own unique combat style using a dynamic system that delivers some of the most intense and responsive action ever found in an RPG. Seamlessly integrate magic and melee attacks as you take on scores of enemies in grand fight sequences and finish them off with brutal fateshift kills that will redefine visceral RPG combat.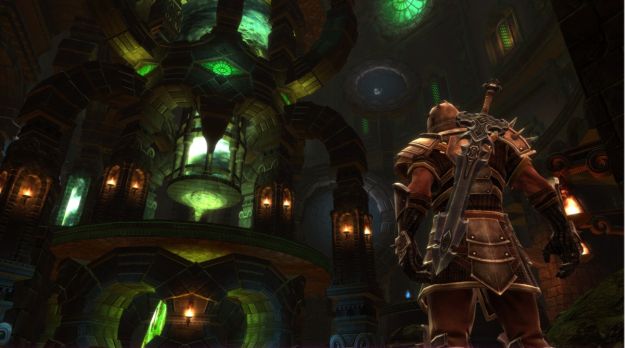 • Open World RPG Design Led by Ken Rolston – Play your way through 60+ hours of riveting storyline, diverse side quests, and open-world exploration brought to you by RPG gurus Ken Rolston and Ian Frazier
• Rich Fiction and Storytelling by R.A. Salvatore – Reckoning is set in the Kingdoms of Amalur universe and its 10,000 years of deep fiction created by 22-time New York Times bestselling author R.A. Salvatore
• Art and Action Directed by Todd McFarlane – Brought to life through the direction of renowen Spider-Man artist Todd McFarlane, creator of Spawn and Founder of Image Comics, Reckoning brings you intense combat, hordes of gruesome enemies and beautifully realized fantasy vistas.
• Choose Your Destiny – Create your own character from dozens of unique skills and abilities, and further customize it as Reckoning's revolutionary new Destiny System unlocks powerful new Destinies based on how you choose to play. Millions of combinations including skills, weapons and armor allow you to constantly evolve and customize the character that looks and play the way you've always hoped.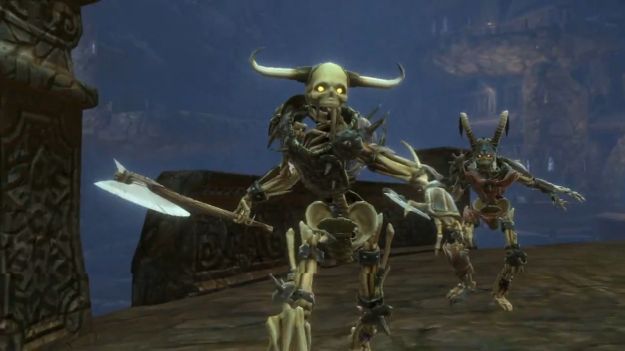 The game starts off with you creating a character and choosing the look of them, it has some customization to it so you can give the character your own touch. After your done making you hero the game begins, and your already dead. Your body is tossed into a "well of souls" and out of all the tries you are the only one to come back to life, but the well is attacked and you need to escape. After fighting your way and you start to seek out answers to what happened to you and how did you come back to life. This is where your quest begins.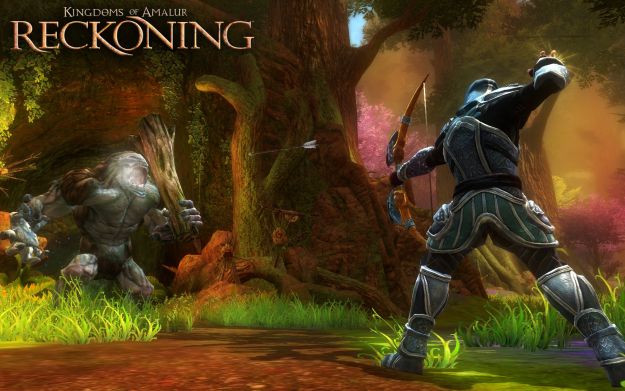 The controls are perfect. You have the ability to set "quick" items like health potions and such to make battle and fighting easier. You have a primary weapon and a secondary weapon that you can switch back and forth seamlessly with just a push of a button. You also have your spells and magic that is there at your disposal. The fighting is very straight forward and easy to learn. You can use stealth and sneak up behind enemies for a stealth kill and extra XP. When you first pick a character class you get to pick a bonus of what your character has. This are things like %5 melee bonus or an extra %1 bonus XP for every kill. Picking the right one for your character is easy, it's whatever you want to be good at.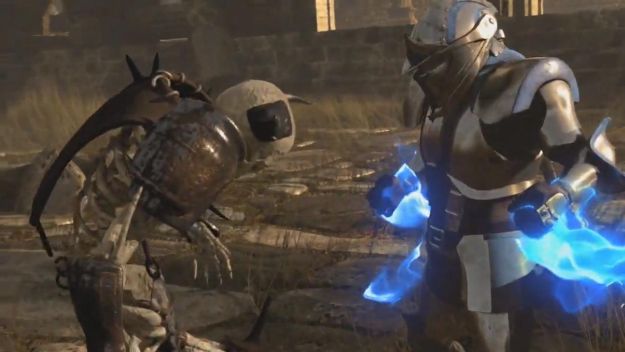 The graphics for such a big game are amazing (7 gigs if you install it to your hard drive) the flawless look and feel of the game is just more than incredible. The work that was put into this game with all the talent it's what Fable 3 should have been. The music, sound effects and the choose your own path is just added treats to an already captivating game. You have tons of different weapons you can master and use, one of the cool things about this is you can have any character use any weapon, like a rogue can use a staff and the magic from it. So you aren't limited to certain items. Yes, you may have to have certain attributes, but that is a given for almost any RPG game, you can't just go around with a level 1 character and use a 900 hit sword.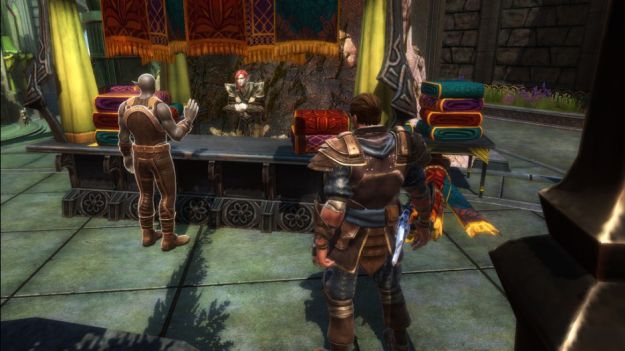 The side quests are never ending and there is tons and tons of things to do in Kingdom Of Amalur Reckoning, you will never get bored or run out of things to do. An awesome feature that more games should implement is that you can hit the back button to open the menu and select quests and choose between side quests and the main quest and pick what shows on your mini map so you don't get confused with what you are doing and what quest you are trying to complete, this makes going through the game more enjoyable and easier to follow. Since playing and being addicted to the game is really, really difficult to find any flaws with Kingdom Of Amalur Reckoning. It's really a gem.
This is going to be one of the 50 best games of 2012. With more content coming for it and more than you know what to do with and amazing talent of world renown artists, writers and more that went into this game EA sure did make something for the fans and gave RPG games a whole new way of playing. Be sure to check this game out.
Game 2 Gamer's Final Score 4.5 / 5
Frustration Level