Madden 2012 Review
Friday, August 26, 2011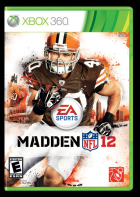 | | |
| --- | --- |
| Game Name: | Madden 2012 |
| Platforms: | Xbox 360, PlayStation 3, PSP, Wii, PS2 |
| Publisher(s): | Electronic Arts |
| Developer(s): | EA Tiburon |
| Genre(s): | Sports |
| Release Date: | August 30, 2011 |
Madden is back with 2012, it was a close call that the NFL might not of had a season, but Madden has never let us down. In 2012 we get the best to date! We could not wait to get our hands on this and give it a go!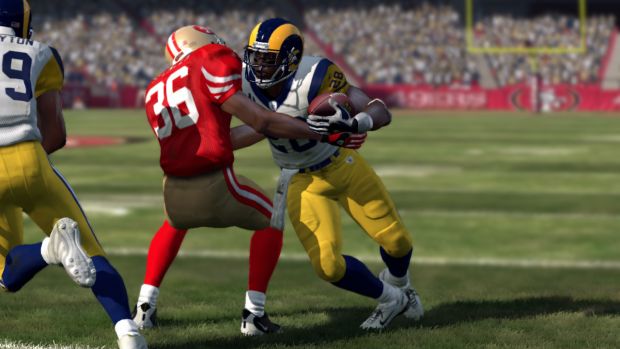 All-New Collision System
The new collision system allows you to maintain full control of players up to the point of impact.
Tackles and blocks will only trigger once contact is actually made with the bll carrier or blocker. This eliminates suction, warping and sliding.
This new collision system takes a player's momentum into consideration. The momentum of the tackle is figured b a variety of factors including the size and weight of the players involved, the speed at which the players are moving, and the direction the tackle triggers.
For example, if you have a smaller back like Chris Johnston running straight ahead and he gets hi head-on by a bigger defender like Ray Lewis, more than likely, Lewis's momentum will cause Johnson to fall over backwards.
Along with this new system come 100 new tackle animations – including 40 gang tackles – that provide more impactful hits, stolen tackles, and consecutive hit tackling.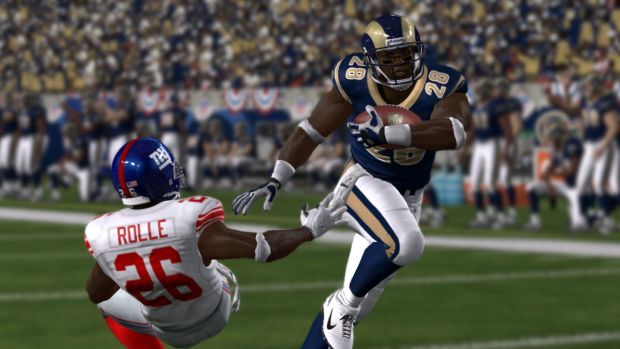 Zone Defense
Madden NFL  12 includes more than 100 defensive A.I. enhancements resulting in the smartest Madden defense ever.
Brand new zone AI logic has been added to the game so defenders have a much better idea of what their responsibilities are for their zone assignment.
Hook zone defenders will now leverage receivers as they run through their zone and point them out to their teammates as they move into another one.
Deep zone defenders will also play more aggressive as they won't sit back and just wait for the ball.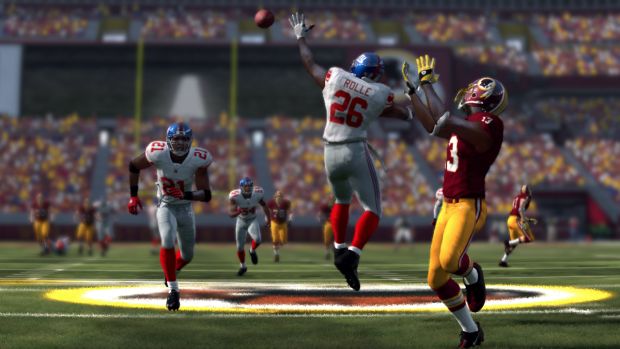 Blocking
Blocking has also been positively impacted by the all-new collision system. Defenders will no longer be sucked into a block. Just like tackles, the block cannot trigger until contact is made with the defender. This not only helps the game from a visual standpoint, but it helps make the game feel more realistic, as well.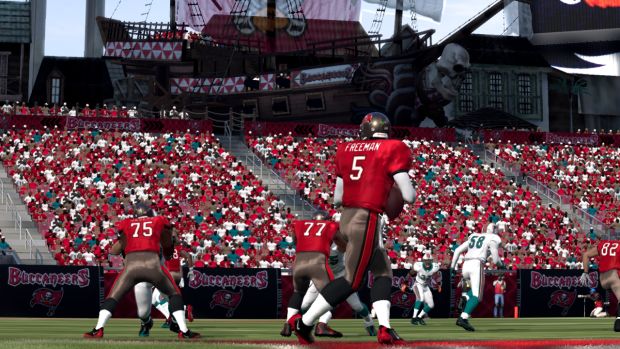 Run Styles
There are three are three run styles for Madden NFL 12:
Long stride
Taller players with long strides, like Calvin Johnson, will use the Long stride run style. You'll notice these players will have a long gait and take fewer steps to travel same distance as the Normal and Short stride style guys.
Normal stride
The majority of players will use the normal stride
Short stride
Shorter players, such as Maurice Jones-Drew or Ahmad Bradshaw, will use the Short  stride run style. They will quicker, choppier steps as they sprint past defenders.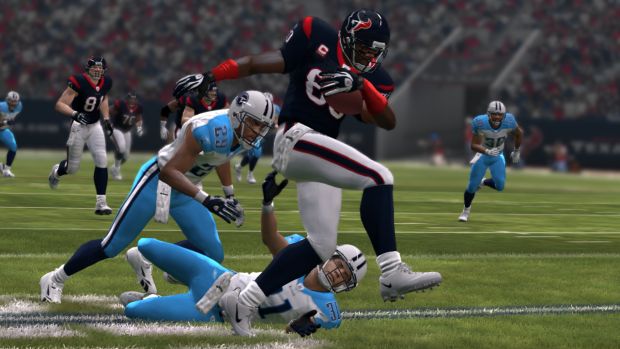 Ball Carrying Styles
There are five ball carrying styles for Madden NFL 12:
Default Carry
The majority of players use this carry style.
High and Tight Carry
Players who like to keep the ball closer yo their bodies, like Michael Turner.
Loose Carry
Players who like to keep the ball away from their bodies while they run, like Adrian Peterson, Terrell Owens and Hakeem Nicks.
Loaf of Bread Carry
Like a Scrambling QBs or a DB returning a pick six ala Deion Sanders style.
Awkward Carry
Defensive linemen and other players not accustomed to running with a football.
Pre-Game
Madden NFL 12 features a completely revamped pre-game presentation package.
Authentic Entrances
For the first time in Madden NFL, there are authentic players entrances for all 32 NFL teams. All of the run-out details are featured, including tunnels, inflatables, pyro, cheerleaders, mascots, flags, vehicles, and animals.
Whether your team has a no frills introduction like the Steelers or an over the top entrance like the Broncos, the details are covered in Madden NFL 12.
The five foot Auger Hawk "Taima" in Seattle., the giant inflatable Bear in Chicago, the Miller Light Club in Dallas, the huge inflatable Viking ship in Minnesota, the chopper with a sidecar in Indy, the Cowboys cheerleaders and the Warpaint in KC…its in the game.
Every scene had been filmed just like they would on game day by two of the best cinematographers the NFL Films has to offer.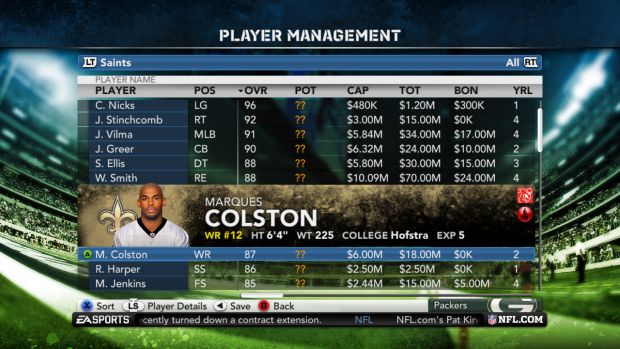 Authenticity
3D Grass
The grass in now 3D, which looks fantastic and makes it feel as though the players are actually interacting with the field.
Players now kick up grass, divots, pellets, water, or snow depending on the surface.
Dive head first into the end zone with DeSean Jackson and send snow and the pylon flying.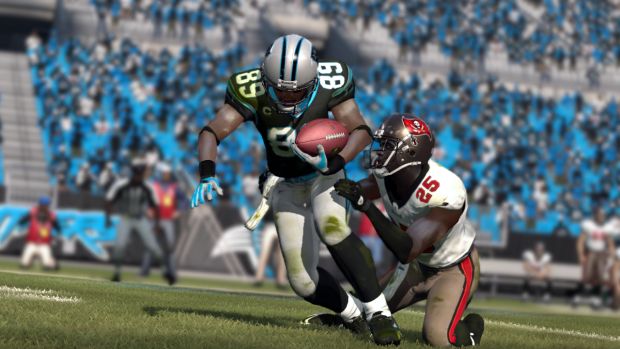 Player-Specific Animations
New player-specific animations have been added, such as new running and throwing styles, so Mike Vick runs like Mike Vick and Tim Tebow throws just like Time Tebow.
More authenci player celebrations have been added as well, including Aaron Rodgers signature Championship Belt pose.
Uniforms & Degradation
Uniforms have been reworked for new level of authenticity that includes wrinkle details, material textures and colors.
A new photorealistic uniform degradation system has been added that includes helmet scratches and grass stains.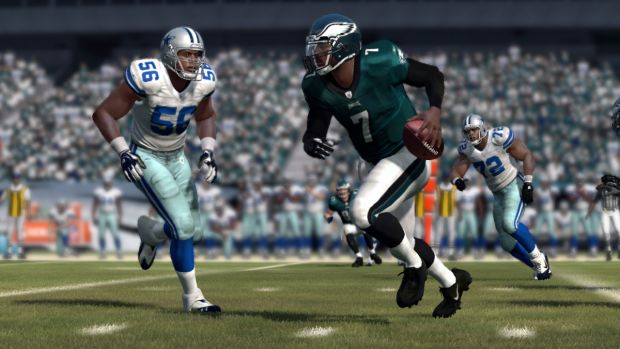 Equipment
Flack Jackets, back plates, the green dot, four new helmets-including new models from Rawlings and Xenith-more than 20 new facemasks and more shoes-including Adidas and Under Armour have been added to the game.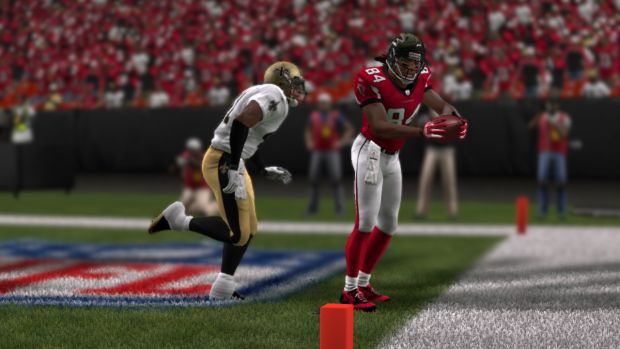 Player Proportions
Players Proportions have been overhauled including a new dynamic head and neck scaling system that makes extreme body sizes like 6'4" 264lbs Brandon Jacobs and 5'6" 190lb Darren Sproles accurate for the first time in Madden NFL. In the past Sproles would have felt like a child because his head would be too small while Jacobs would not feel as big because his head was too large.
Ball Size
The ball scale has been reduces by 20%, making it 100% accurate to the NFL scale.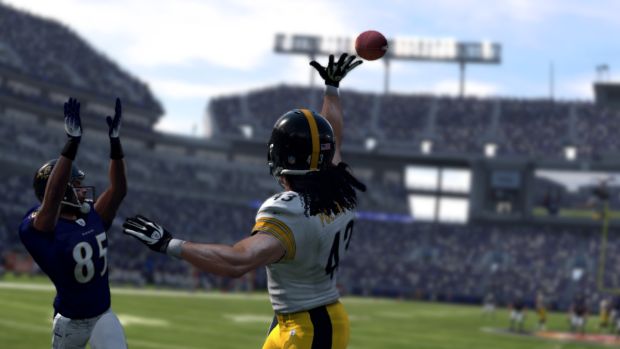 Dynamic Player Performance
Dynamic Player Performance:  Experience the highs and lows of authentic NFL football as player's skills and confidence rise and fall based on their performance throughout an entire game, just like in a real NFL game.  No two players will play the same thanks to new ratings and traits that change dynamically throughout the game experience, throughout franchise mode, and via regular roster updates.
Madden Ultimate Team
·         Madden Ultimate Team:  The perfect combination of Madden NFL Football, fantasy football, and trading cards comes to life in Madden NFL Ultimate Team. Earn, buy, auction, and now trade players, to build your ultimate team of NFL stars.
Online Communities
·         Online Communities: Online Communities provide an all-new way for Madden NFL gamers to meet and play. Create and join Communities of up to 2,000 like-minded players, competing on your own leaderboards based on customized game styles with more than 50 variables including: game length, gameplay sliders, game speed, penalties and more. Play head-to-head games within your community or team up with fellow members to play ranked Team Play against other communities. Join up to five communities at once to meet varying play styles. Your friends, your rules, your leaderboards.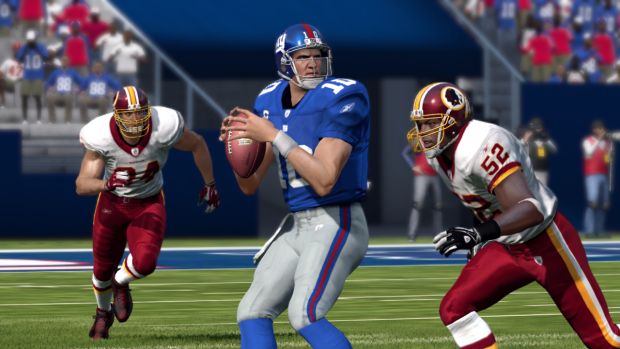 The gameplay style has changes that make the Madden a whole new experience for both newcomers and veterans alike. One of the biggest changes that took us a bit to get used to is that EA took out the sprint button so the players are in full sprint at all times and we find our self holding the RT at times and still do it. After years of Madden and the sprint button its hard to break that habit.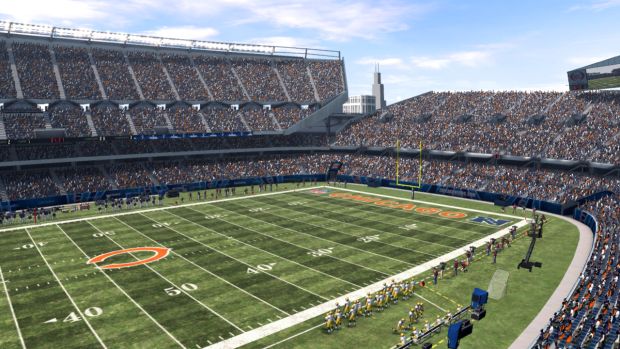 Another noticeable change in Madden 2012 is when your back or receiver has a break away the defenders now catch up a lot easier and faster to stop you from scoring. So the Achievement with Greg Jennings and a 99 yard touchdown catch will take a few tries but it's possible since we at the office unlocked it.
On defense now you have a bit of help by holding the "A" or "X" button on defense to help make the best play and aid you in playing defense. This is a great feature for players that are new or struggle on defense. The play calling system is beautiful and well done, It has the game flow option where it gives you a play for to choose or of course you can go back to the traditional play open book play call system to ask Madden, open playbook, run or pass.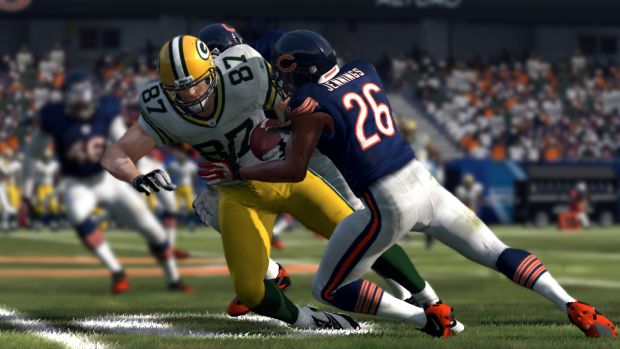 All the new features in Madden 2012 is almost insane to how much EA has put into this making it now the most realist NFL Football game you can play without actually playing football. The feel and look of the game is mesmerizing. The commentators are now in the game and they go back to early plays in the game, such as if your running back had a fumble in the 1st quarter and it is now the 3rd quarter Chris Collensworth may say "that fumble early in the gamy may be the cause of his bad performance" and that is almost life like as watching a live game
The game it self is a masterpiece and EA has really out done past releases with this one. The graphics has been very much improved, the controls are more responsive for that perfect timing to get the best play. EA has truly out done themselves with this and every year we think it cant get any better but it finds a way to do so. We cannot wait to see what comes next from Madden!
Game 2 Gamer's Final Score 5 / 5
Frustration Level