NCAA Football 12 Review
Monday, July 11, 2011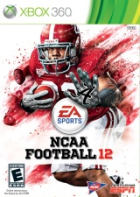 | | |
| --- | --- |
| Game Name: | NCAA Football 12 |
| Platforms: | Xbox 360, PS3 |
| Publisher(s): | Electronic Arts, Inc. |
| Developer(s): | EA Tiburon |
| Genre(s): | Sports |
| Release Date: | July 12, 2011 |
| ESRB Rating: | E |
EA is back with its newest release in the NCAA football franchise game. And since there might not be an NFL season this year, NCAA is picking up the slack! The new features, new look and new gameplay makes this the best yet EA football yet, and let us tell you why.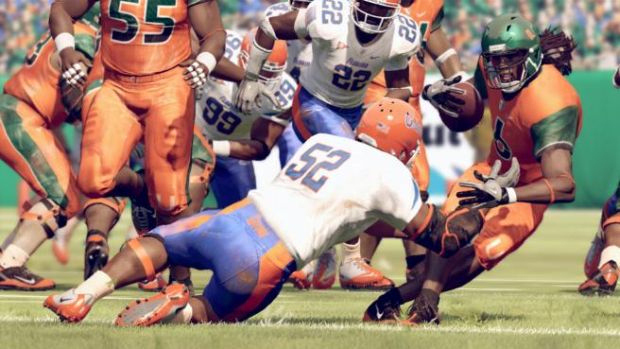 Road to Glory – Be an Ironman and play both sides of the ball in your final season of high school while getting recruited by the top schools. In college, fight to keep your starting job and earn your coach's trust to unlock extra abilities on the field en route to becoming a Heisman trophy winner.
Dynasty – Coaching Carousel: Roam the sidelines as a coach in an enhanced Dynasty mode. Start off as a coordinator or take over as head coach to begin your coaching career. Stay off the Hot Seat as you climb the ranks of the coaching ladder and lead your dream school to a coveted national championship.
Conference Customization – Create new rivalries and alter the landscape of college football forever by realigning conferences throughout college football. Build new 16-team super conferences, create conference schedules, decide BCS bowl tie-ins, and more.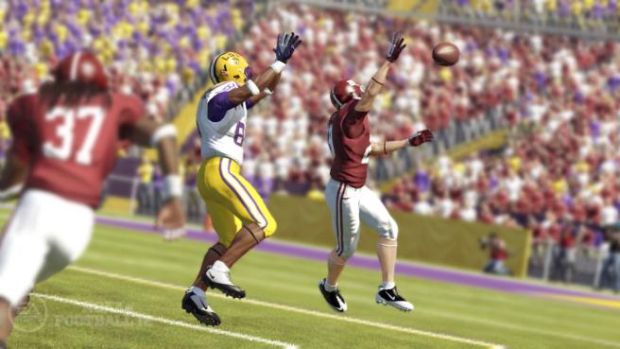 Feel the true emotion of college football as your team runs onto the field with new pre-game traditions like the Sooner Schooner and Ramblin' Wreck, and celebrate big plays alongside school icons like Chief Osceola, Uga, and Tommy Trojan.
Your college gameday experience rises to a whole new level with an all-new momentum-based collision and tackling system that allows you to control a player through the moment of impact. The new tackle button gives you the ability to lunge at your target/ball carrier to insure the best tackle or wrap up and hope to strip the ball, I personally love this and makes the game play easier and more pleasing to the user.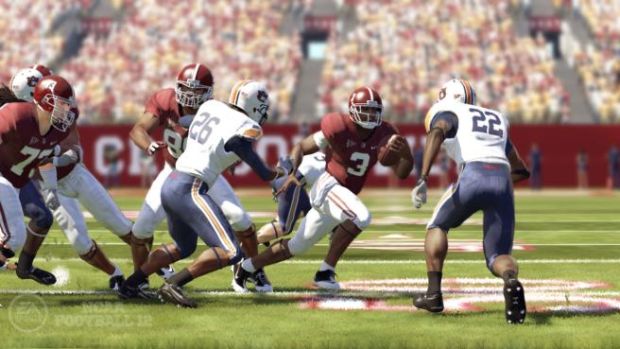 New features and updates:
New live mascots are included in the game for the first time ever:
Auburn War Eagle
Colorado Ralphie
Florida State Renegade (and Chief Osceola)
Georgia Uga
LSU Mike the Tiger
Oklahoma Boomer and Sooner (pulling the Sooner Schooner)
Tennessee Smokey
Texas Bevo
USC Tommy Trojan
Virginia Cavalier Mascot
Other new entrances/ touch traditions:
Boston College Eagle Statue
Florida Gator head Statue
Georgia Tech Wramblin' Wrech
Indiana The Rock
Louisiana Tech Bulldog Statue
Maryland Testudo Turtle Statue
NC State Wolf Statue
Northern Illinois Husky Statue
Northwestern "Trust Yourself" Sign
Ole Miss Bust Chucky Statue
Oregon Duck on Motorcycle and "Win the Day" Archway
Purdue Giant Drum
Tennessee Smokey and "T" Wall
Texas " Don't Mess with Texas" Sign and Giant Drum
Texas Tech "Saddle"
USC "Im in" Sign
Wake Forest Deacon on Motorcycle
Wyoming Cowboy Statue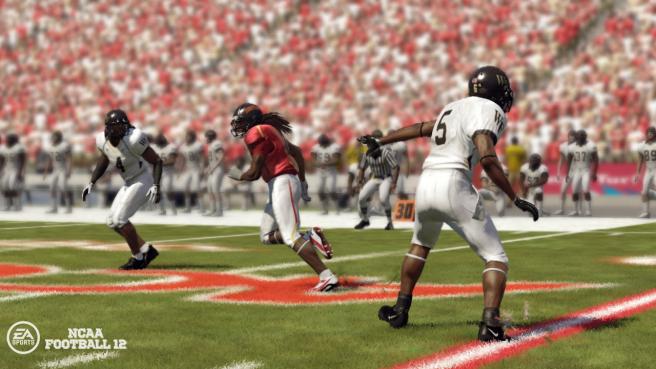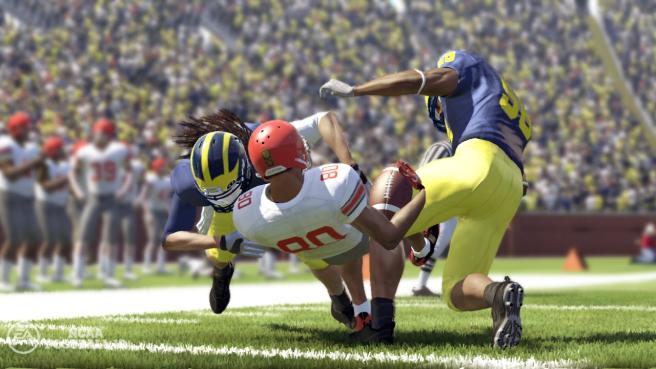 Visual Upgrades
3D grass
Grass even comes through the snow
HDR lighting
Exposure changes on the fly based on positioning of the sun, shadowing
Particle effects
Degradation
Field
Uniforms
Dreadlocks
New gear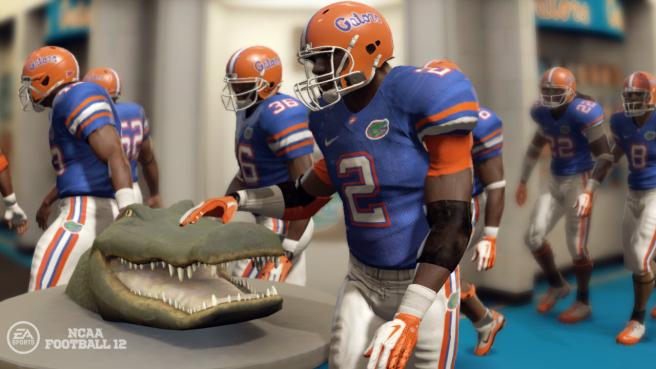 New helmets
New Facemasks
New gloves
New uniforms
3D crowds
New vignettes
Coach interaction with the players
Audio
Custom stadium sounds
200 total sounds (vs. 50 sounds previously)
Users can now set custom sounds for pre-game
Better audio- 100,000 person crowd was recorded at a game with 100,000 people, so it is no longer a smaller crowd made to sound larger (I.e 50,000 person crowd doubled to try to make it sound like a 100,000 person crowd).
Gameplay
Collision based Tracking System – animations do not begin until contact is actually made
Tackling
New tackle button: "X" (Xbox 306) or "Square" (PS3)
Lunge toward player if not close enough to make the tackle
Blocking
Catching
Suction-free gameplay
Zone Coverage
Players are smarter about where their help is
Defenders hand receivers off from one zone to another
Defenders are smarter about being in positions to make a play
Dive Catches
Coach Mode
Coach  mode is a setting to play the role strictly as the coach. Users are in total control of the team until the snap of the ball and then play is CPU driven.
As the coach, a user calls plays, hot routes, audible, makes depth chart and pre-snap adjustments.
The Coach Mode camera angle view is all new. The camera is from a broadcast presentation angle.
Custom Playbooks
Users can success their custom playbooks during a game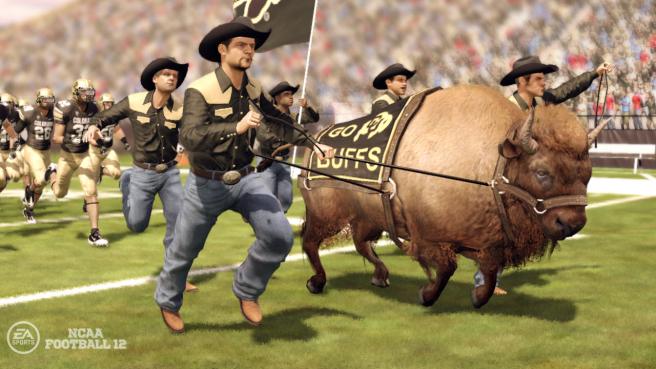 TEAM MANEGAMENT
Users can create up to 15 offensive and 15 defensive playbooks
Users have the ability to start with a base playbook from one school, then customize with different plays from other schools.
Users can include up to 40 formations and 374 plays in their custom playbook
Add/remove plays from formations with a click of a button
Edit audibles
Users now have the ability to reorganize the play call screen, which is a great usability upgrade
Users can remove plays from this screen, as well
Edit Coach
Users can edit all 120 coaches, offensive coordinators, defensive  coordinators
These edits are attached to the user's current roster file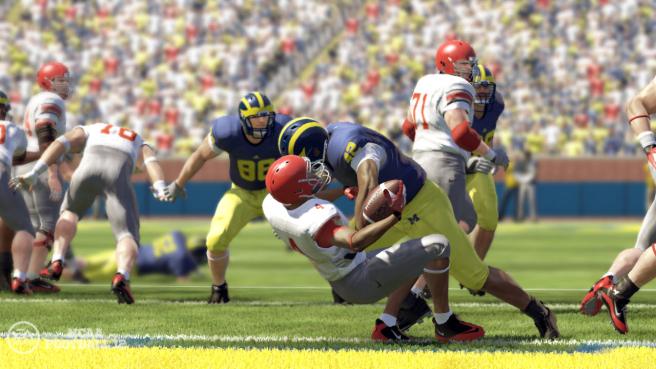 PLAYER CAREER
Create-a-Coach
Custom Conferences
Ability to edit conference membership and rules
Shrink to as low as 4 and expand up to 16
With conferences that have 12 or more schools, divisions can be added
Up to 32 schools can be independent
Set Rules
Protected Rivalry
Ex: Michigan vs. Ohio State will still play on another if the user protects that rivalry, even though they are in different divisions.
Which day of the week the school will plays games
Edit locations of championships game
Edit divisions names
Edit Bowl Tie-Ins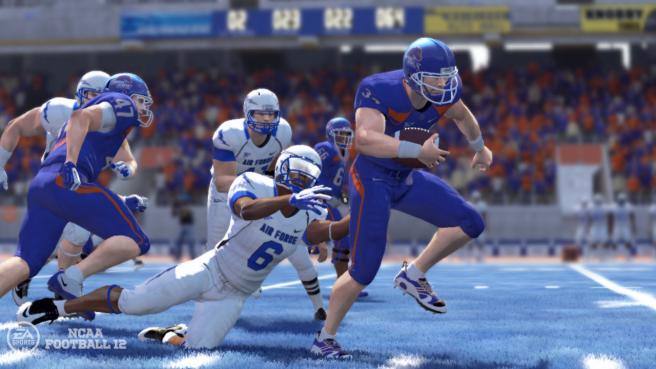 That above it just some of what EA updated NCAA 12 with and added, the game is truly amazing and redefined for a game that releases every year. The play calling on either side of the ball is perfect and easy to understand, formations, coverage and even getting suggestions for a difficult situation if you want help it's there by going to "ask coach" and as always you can back out and decide yourself what to do.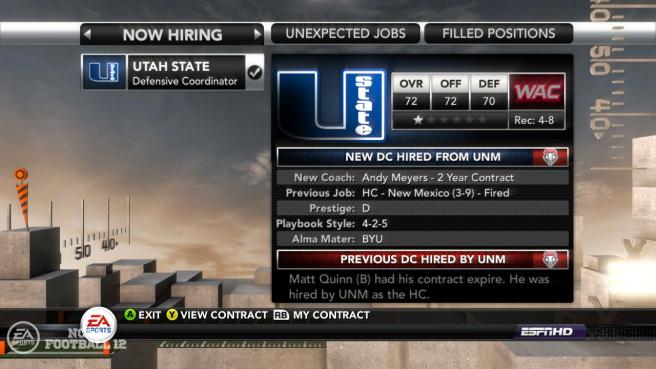 EA added to NCAA 12 a points system, basically when you do something are a good play, sack, touchdown you get points that add to your player ranking. But you can also lose these points by making poor choices or just not being sportsman like, as if you are winning a game 21-0 and its 60 seconds left on the clock you will get a -80 points for "running it up" or trying to pile on points and pad your score. This was a brilliant move by EA to install this idea and give players a type of "guide" to go by and not just play a cheap type of game and almost levels the playing field for all players to have fun and enjoy the game like it was meant to be!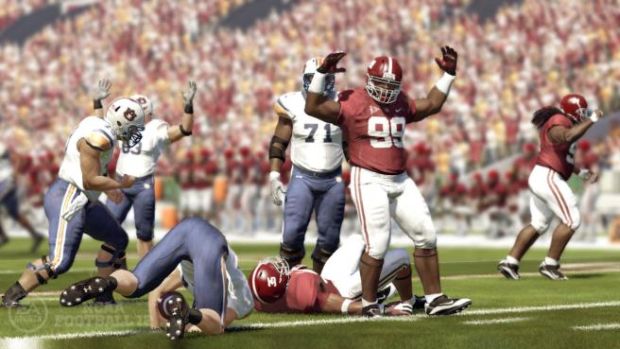 The graphics are impressive to anyone's standard, they show almost every detail to every blade of grass. The 3D grass can even be seen coming through snow and gives the game that much more depth and "real" feel to it. The crowd is in it with 1,000's of sounds and noises. You can pinpoint different fans and sayings as you play and fans react amazingly to plays as they unfold on the field. As if you were sitting in the stadium watching the game with extra HD. The motion capture is fluid enough that each player feels and looks to be alive and playing a real game. This can pass for your Saturday college football needs by just watching NCAA it can be mistaken for a live game.
The time we spent playing this game is too great to talk about and we might have lost count of hours we put into this and didn't leave the office for days, and in all that time we did not, and could not find one glitch or flaw in the game play so far, not saying that they don't exist but we have yet to spot one and the game has not froze, messed up, cheated or anything that we can speak ill about it, it is truly a masterpiece by EA and we are looking forward to what they do next with the sports titles!
Game 2 Gamer's Final Score 5 / 5
Frustration level