Project Triforce Q&A
Thursday, June 23, 2011
The awesome folks at Project Triforce gave us a little of their time to talk to us over here at Game 2 Gamer and answered our questions, (no matter how crazy they were) and they didn't hold Back!
For those that don't know about Project Triforce and you're a gamer or a fan of anything video game wise, be sure to run on over to Project Triforce and check out their AMAZING work!
Question: Start off by telling us a little about Triforce and about what you guys do?
Answer: Triforce is a New York based company that produces high-end collectibles. Our main genre focus is video game properties. We create museum quality replicas and statues using state of the art techniques working off 3-D in game models to create the most accurate representations possible. We are big fans of the licenses we take on and want to do them justice.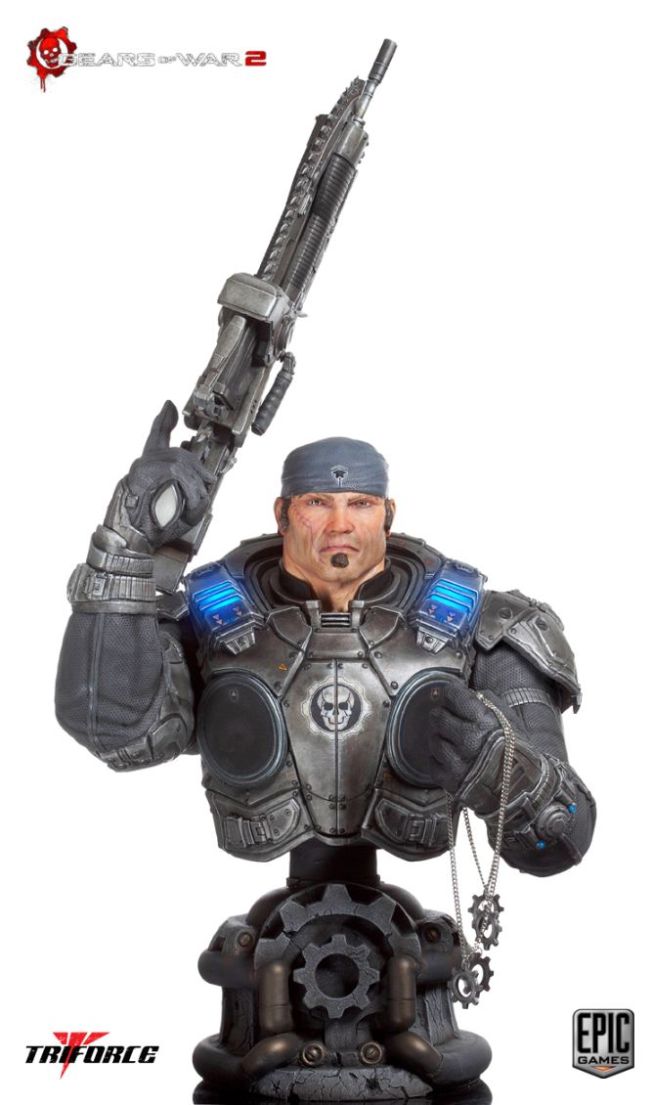 Q: What inspired your team at Triforce to design & construct replicas from video games, movies, and fan fiction?
A: We are fans and wanted products that we couldn't find so we decided to do it ourselves. :). Really, it was a love for the industry and a desire to get involved in a business that was something we wanted to do everyday.
Q: What's it like working in the office and getting to make some amazing items?
A: Work is still work and it takes long hours and lots of stress but we do have fun jobs that we enjoy. We have a good dynamic in the office that helps enhance creativity. Nothing like being able to play Gears of War for inspiration and call it work. We are very lucky and absolutely enjoy what we do.
Q: What goes into making an average replica? Lancer? Bust? Statue? (time,experience, etc.)
A: It all starts with the game developers. They come up with these amazing characters and weapons and our job is to make them exist in the real world. It creates numerous hurdles to try and overcome. If you think about it, using the Lancer as an example, we all knew what it looked like in the game and had the specs but making that translate into a real object that represents what the creators wanted takes time. Our goal with every product is for the team at Epic to say to us. Yes, that is totally what I wanted this to look and feel like in the real world. We worked on getting the Lancer right for well over a year.
Q: Can you give us a little hint on the process that goes into making these replicas? (hand made, painting, design, sculpting, art, etc.)
A: I can't give away secrets but I can say it is a combination of using the latest technology and the best and brightest Hollywood effects talent available. You need a team in place that takes pride in what they do and people that want to push themselves to keep doing better. The best conversations are the ones between our product people and the Epic art team because they challenge each other to go the extra mile.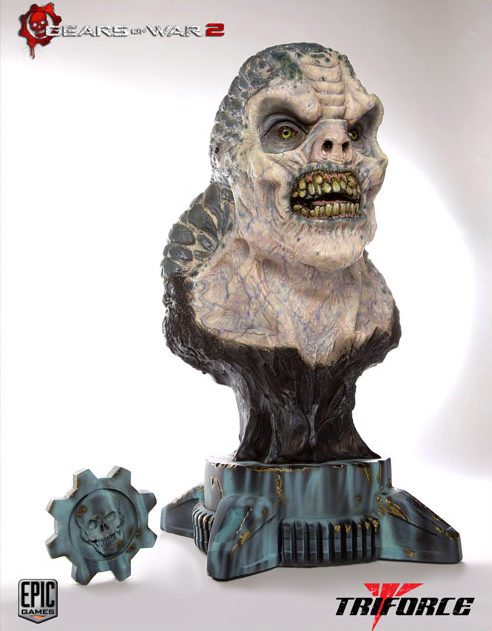 Q: Who comes up with the ideas? Which ones get approved, which ones don't? (if any rejected, could you tell us about them?)'
A: It is an open discussion. Starting with the Lancer made sense because it is the iconic weapon of the Gears universe and of course looks super badass. Making a Marcus Fenix bust again made sense because he is the games hero. We would never reject an idea but some things are just extremely difficult to do. The Lancer is about 38 inches long and weighs 25 pounds. If we make a Longshot it would be even bigger. Ideas that might get a project postponed would be can we ship something that big and if we could, will people even have a place to display it.
Q: Do you plan on working on any other replicas from the GOW franchise? Maybe some full body, life size locust creatures like Brumaks or Berserkers? Maybe Queen Myrrah or Adam Fenix?
A: The great thing for us is that the Gears universe (including the novels and comics) is loaded with characters, creatures, weapons and vehicles that we have an endless supply to choose from. We plan to continue our Epic Scale line, up next is a Gears 3 design Cole Train. He will be a great complement to our Epic Scale Marcus Fenix which will be shipping next month. We also have a Beserker and Brumak design that both look sick. We have so many things we want to do it often cause great debate internally as to what comes next. We like to hear from fans as to what they want to see next. One fan did a pole on the Gears community forums and reached out to us with the results. A nice sized group of people are very interested in the Longshot.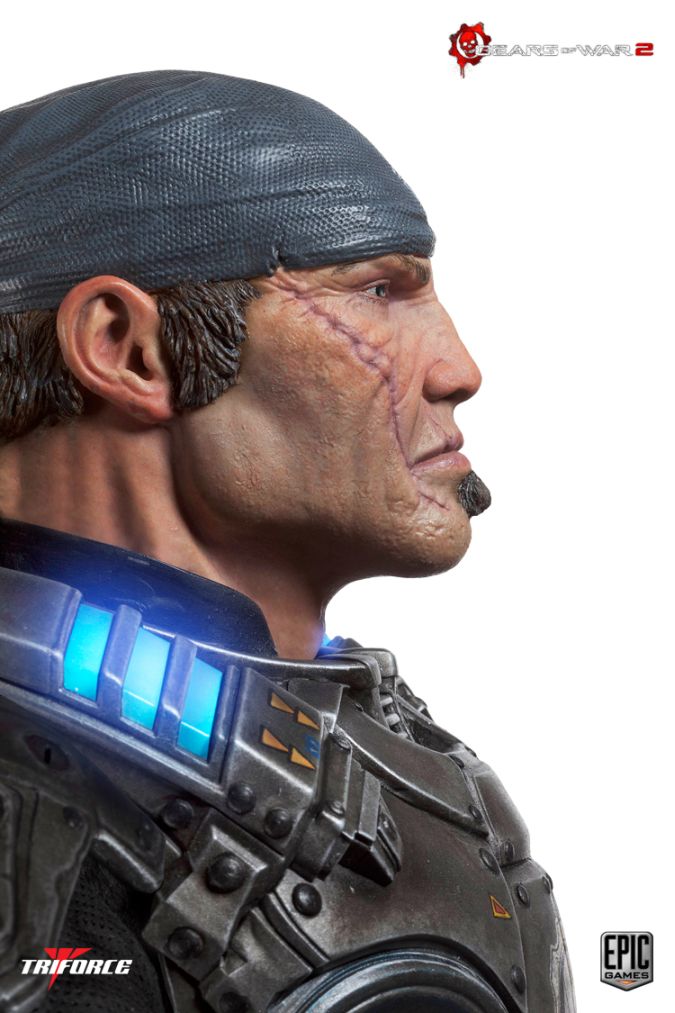 Q: Will there ever be more than 500 Lancers be built? Perhaps a special edition? (gold) or some for the fans that want some to display?
A: If we did do anything like that it would be very limited and for specific reasons. I don't think we will revisit the Lancer with a large production run. Maybe a Gears 3 version or maybe a Retro Lancer but when the 500 are gone, I think we are done. That being said I am in the minority in the company in thinking that. Our team loves the Lancer and we are very proud of it. It was a very difficult piece to make. It consumed a great deal of resources. But it was worth the blood, sweat and tears that went into it.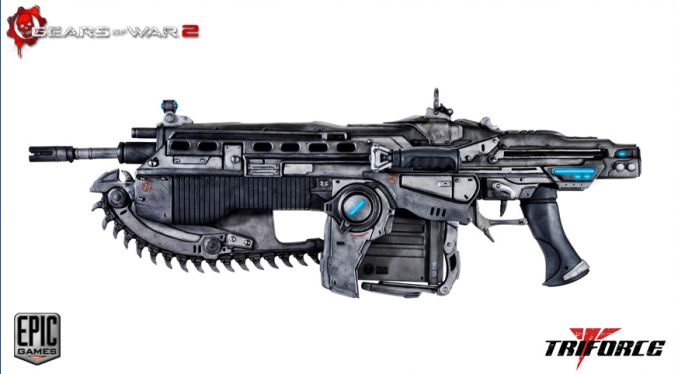 Q: Would it ever be possible to create a Lancer with a true chainsaw bayonet that revs? ( Dreams can always come true. Right?)
A: Ha! I wish. No sorry to say that just won't be in our future. We had enough trouble with customs importing the one we released. With moving parts we would all end up in deep trouble.
Q: The products page
(http://www.projecttriforce.com/index.php?p=catalog&parent=3&pg=1) hints towards a new weapon from the GOW franchise, notably the Snub Pistol. Canyou please tell us some more about it?
A: The Snub should be ready for pre-order by the end of the summer with delivery by Christmas. At least that is what our current schedule looks like. The Snub is based on Gears of War 3. It is huge, like all the weapons the COG soldiers carry. We are very excited to release it and will be displaying it at San Diego Comic Con.
Q: At E3, Lester Speight the voice artist for Augustus Cole sported a cleaver that is usually wielded by Butchers in the franchise. Can we see something like that from Project Triforce in the future?
A: Maybe, we haven't talked about it yet. We are looking at the next weapon after the Snub and our thinking is that it is time to do a Locust weapon. We are discussing a Hammerburst and Torque Bow. That being said the universe is so rich with cool stuff I can't say for sure where we will go next.
Q: Does Chris Perna (art director at Epic) provide you with the artwork and guidelines to work with on the replicas?
A: Yes, Chris is incredibly helpful to us and a great guy to work with. He provides all the assets and assistance we need to make the highest quality replicas possible. We share the same belief that creating an exact in game replica is what the fans want. No one really cares what our interpretation of the Lancer is, they want what they see on the screen and that is what we give them.
Q: We also noticed the button on your main page referring to Mass Effect. Are you working on some replicas based on the series?
A: Yes, we are working on a 1:1 scale replica of the M8 assault rifle. We plan to debut and start taking pre-orders for it at San Diego Comic Con. So far it looks incredible. The final version will have working LED lights and look like it came right off of Commander Shepard's back.
Q: Is there any other projects that Triforce is working that you can tell us about? Any surprises that you can reveal?
A: We recently acquired the Darksiders license and have a Mercy replica in the works. Like Gears this is a very rich universe that can keep us busy for a long time to come.
Q: For our readers, what is the best places to order from Triforce and check out the items you offer?
A: Visit us on the web at Project Triforce, friend us on facebook at Triforce Sales or follow us on twitter at @projecttriforce