[Rumor] Possible "Shadow of the Tomb Raider" Logos and Gameplay/Locations Leaked
Sunday, June 18, 2017
Shadow of the Tomb Raider Logo and Key Art Exploration.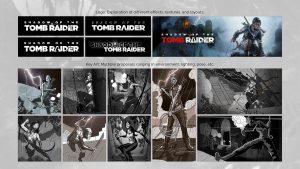 Through sketches and renders, we explored varying concepts for the Shadow of the Tomb Raider logo and key art. This process consisted of using the different pillars of the game as inspiration to accurately portray the brand.
-Pyramids
-Braid
-Spear
-Machete
-Sword…
BTW. This company is a marketing studio, and they create promotional materials for games. They worked with SE before.