Secret of Mana remake Japanese voice cast announced
Sunday, September 24, 2017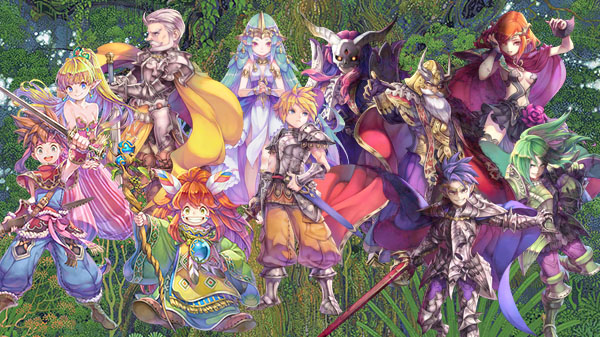 ---
Square Enix announced the Japanese voice cast for its upcoming Secret of Mana 3D remake during a stage event at Tokyo Game Show 2017.
---
---
Watch the full stage event from Tokyo Game Show 2017 below. New gameplay footage can be seen between 30:06 and 36:12.)
---
---
Get the details below.
Randi (voiced by Kenshou Ono)
---
The hero. Randi is a young boy who possesses immense courage. Upon hearing a mysterious voice he discovers the Mana Sword. Armed with the power of the Mana Sword, he sets forth on this quest to learn how to harness Mana.
Primm (voiced by Nozomi Yamamoto)
---
A young noblewoman from the Kingdom of Pandora. She rebels against her father's plans to arrange her marriage. After saving Randi from an ambush, she accompanies him on his journey to restore the power of Mana. Primm is also on her own quest to save Dyluck.
Popoi (voiced by Emiri Kat)
---
A mischievous and caring sprite. Popoi suffers from amnesia, but joins Randi and Primm on their quest in the hope of restoring their lost memories.
Jema (voiced by Eizou Tsuda)
---
A knight of the Republic of Tasnica. He travels the world seeking out the cause of the world's decreasing Mana and a counter-measure against it. He is a guide to Randi and company, teaching them various things about Mana and the world.
Lusa Luka (voiced by Rie Kugiyama)
---
A shrine maiden of the Water Palace dedicated to the seeds of the Mana Tree. She can learn about everything that is happening in the world through the flow of water.
Dyluck (voiced by Takuya Satou)
---
A knight of Pandora. He was born in Kippo Village and is Primm's lover. Because Primm's father was not pleased with his position as a soldier, he sends him off to battle a witch.
Vandole (voiced by Kenichi Ono)
---
Emperor of the Vandole Empire. 15 years ago, during the war with the Republic of Tasnica, he signed a contract with the underworld and gained significant power. In order to conquer the world, he leads the Four Heavenly Kings and plans on reviving the Mana Fortress.
Thanatos (voiced by Jouji Nakata)
---
One of the Four Heavenly Kings, and the most strategic tactician. He is accompanied by powerful monsters, and no one has seen the face beneath his mask.
Sheex (voiced by Hiromichi Tezuka)
---
The leader of the Four Heavenly Kings, and a knight of darkness. A user of the dark sword, his confidence is backed by his abilities, and his actions are bold and daring.
Geshtar (voiced by Yuuki Ishikari)
---
One of the Four Heavenly Kings, and a Mech Rider who uses an ancient weapon. As a vanguard, he has a wide range of actions, and often confronts Randi and the others.
Fanha (voiced by Mie Sonozaki)
---
A knight and the lone woman of the Four Heavenly Kings. She is strongly hostile towards Randi and company, who interfere with the Empire.
Samples of each character's voice are available at the game's official website.
Secret of Mana is due out as a digital-only release for PlayStation 4, PS Vita, and PC worldwide on February 15, 2018. In Japan, the PlayStation 4 and PS Vita versions will also be released physically.