Sniper Elite V2 Review
Wednesday, May 23, 2012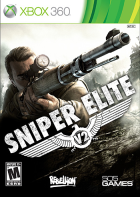 | | |
| --- | --- |
| Game Name: | Sniper Elite V2 |
| Platforms: | Xbox 360, Playstation 3, PC |
| Publisher(s): | 505 Games |
| Developer(s): | Rebellion |
| Genre(s): | Action, Stealth, Shooter, 3rd Person |
| Release Date: | May 1st, 2012 |
| ESRB Rating: | M |
One bullet can change history. Berlin 1945, V2 rockets with deadly nerve gas are primed to launch. An army of German and Russian
The idea of the game is you guessed it, sniping. But it's not just that. You can go on a rampage and killing spree with guns blazing, but the fun part is sniping. When doing so you can activate "Focus Time" what this does is it has your character hold his breath and empty his lungs. This also slows down time and allows you to focus your shots. With great shots you activate kill cams, this follows the bullet from your gun to the enemy than upon impact it triggers a X-ray cam that shows the damage your shot caused. Hence the better shot, the better damage equals more points for each kill.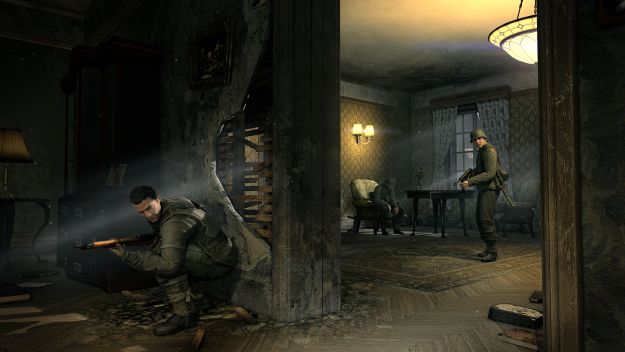 The game play and story itself are a wonderful idea. The controls are well planned out with no lag or frustration. If you happen to find a glitch then it must be rare because playing this we didn't find any. The game does lack CGI and cut scenes to keep the story fluent, but this surprisingly doesn't really affect the game all too much and with very few load screens and loading time you do not notice it much really.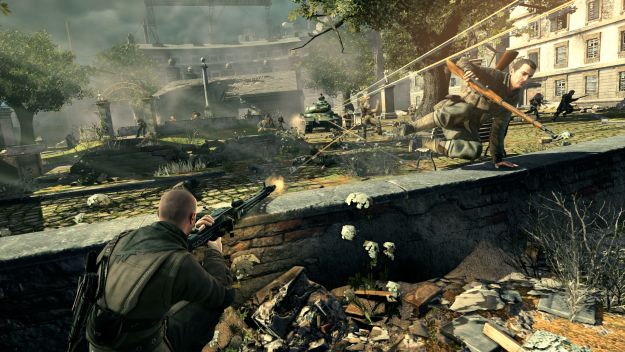 The graphics are very well polished and a joy to look at, the buildings and detail in the city is truly amazing. This is WWII so the buildings are torn apart and beat down. All that you would see in a World War 2 movie, pictures or history book is put into the detail. You character carries three weapons, a sniper rifle, a pistol and a machine gun. You can pick up the weapons of falling enemies and search them for ammo and such. You have the ability to set land mines and booby traps. This is very useful when you don't want to get in a firefight you can set a trap and throw a rock to lure your target out to fall for your trap.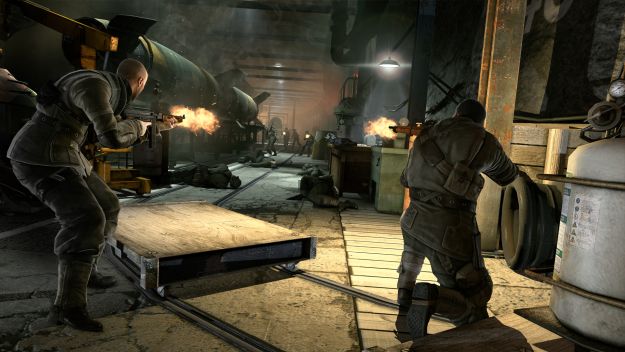 Something that we wish was incorporated in the game would be a melee attack or stealth kill, such as if you were to sneak up behind an enemy you can take them down with a knife or a choke hold, instead you have to use a pistol that is somewhat silenced.  The game is in 3rd person view with the sniping being first person, but we love the 3rd person view because it allows us to connect with the character and actually see what we are doing. Sniper Elite V2 does feature a cover system, so you can hide behind almost any object in the game to give you cover or to sneak around and hide.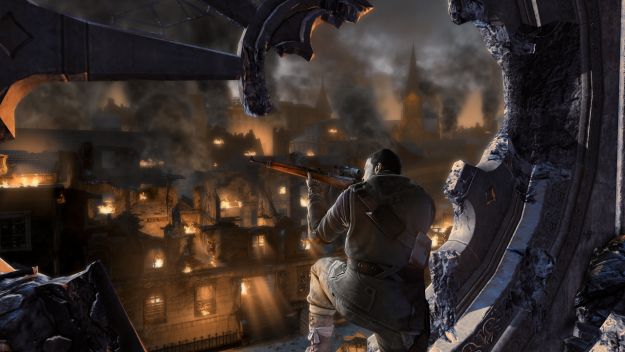 Sniper Elite V2 has co-op offline and online. Amazing. We love games that feature an offline co-op that you and a buddy can jump into and play on the same system. What this is, you or your friend will be a sniper and the other is a "spotter". When spotting any targets or enemies it puts a red arrow above the targets head which makes it easier for the sniper to locate them and take them out. You can play through 4 different online modes and compete in who can get the best score.
With Sniper Elite V2 we feel this game was a sleeper and very worth a try. It didn't get the noticeability like other games may have gotten, but that's why we love 505 Games. They put out some of the unique titles that are just plain fun. With DLC content and missions you can download and always trying to get a higher score there is a good amount of replay value. And if you pre-ordered the game you got the mission to kill Hilter, now who doesn't want to see that on X-ray cam!
Game 2 Gamer's Final Score 3.5 / 5
Frustration Level     

Replay Value: Mid-level