Steep Review
Sunday, January 14, 2018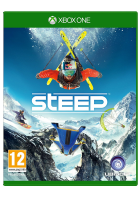 | | |
| --- | --- |
| Game Name: | Steep |
| Platforms: | Xbox One, PS4, Nintendo Switch, PC |
| Publisher(s): | Ubisoft Entertainment |
| Developer(s): | Ubisoft |
| Genre(s): | Sports, Extreme Sports, Snowboarding |
| Release Date: | 12/1/2016 |
| ESRB Rating: | T |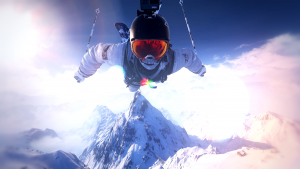 So you wanna be a professional action sport athlete? Ever wanted to shred on a snow board down the Alps how about the Alaskan wilderness? Ever wanna float across the sky and just view the breathe taking landscape mother nature has to offer in -40F weather? didn't think so.. enter STEEP now you can shred down mountains compete against some of the best snowboarders in the world or blast across a vast giant open world with a jet pack and land on top of the tallest peak top rip down some of the most gnarly terrain known to man.
STEEP by Ubisoft is not the first of its kind in action sports open world games but it definitely pushes the bar. The graphics are stunning and the physics are dead on for a game of this caliber. choose from paragliding across the world snowboarding or skiing down monstrous mountains and punishing terrain or jump from a hot air balloon as you rocket through cracks and crevices to be the first to make it your landing zone play with up to 16 people at a time in challenges ranging from races to highest score free ride type runs.
STEEP is everything you could want in a open world action sports game. Play from a third person perspective or get the full thrill and try to score your biggest run ever in STEEPS amazing first person view. STEEP is a step above the rest and the new standard for all action sports open world games to follow.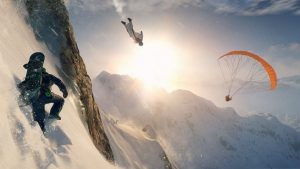 PROS.
1. With a intense open world and stunning graphics STEEP delivers a action packed punch like no other. The CGI is amazing and the work put into the detail is more then beautiful.
2. Extreme realism and real time physics make game play realistic. It gives the controls of the game a great response and zero delay.
3. Expandable maps multiple DLC's and many upgrades to purchase and earn as well as many unlockables including new events to make sure you are always entertained.
4. Vast array of challenges and online events available to compete with your friends as well as people across the world.

CONS.
1. DLC packs are expensive, each new DLC pack comes with special content but at 29.99 a pack and over 8 packs available it can get expensive quick.
2. game can be beat very quickly. standard gameplay can be completed in roughly 2 days, as addicting as gameplay can be with STEEP this is a huge disadvantage, after standard gameplay is complete you then must buy DLC packs to continue gameplay and keep going.
3. Sometimes physics are a little to real, by this meaning that a simple pebble can take you out and ruin your whole run at certain times. This at time can be frustrating to an annoying point.
4. money, money, money this game does seem to take quite a bit of money to be on top or continue once your standard game is complete and again this is a huge setback to such a great game.
The conclusion: STEEP is definitely a game changer in the open world action sports scene with great graphics and what seems like endless terrain as well as so many different variations of gameplay from snowboarding to flying across the world (with proper DLC pack of course) STEEP is a great game. the game would rate damn near a 10 if it wasnt for the vast amount of DLC that must be purchased to even be able to compete in the game. so with that aside if you're ready to discover some of mother nature's most deadly terrain and shred some of the world's biggest mountain ranges all from the comfort of your warm living room this is the game for you.
Game2Gamer final score: 3.5/5
Replay Value: Mid
Frustration Level: