Tetsuya Nomura on Kingdom Hearts III development length, DLC, and more
Monday, July 17, 2017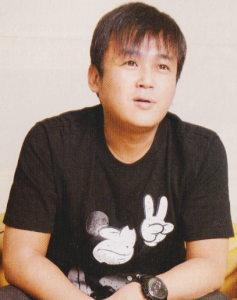 More new information about Kingdom Hearts III has come out via Game Informer and GameSpot with director Tetsuya Nomura following Disney and Square Enix's announcement of a 2018 release window and Toy Story world.
Nomura discusses details about why development has taken so long, keyblade transformations, downloadable content, and more. He also hints at the game having a lesser amount of worlds than previous entries, but with greater depth.
Get the tidbits below.
Nomura on Keyblade Transformations

"First and foremost, each keyblade will have its own form that it can transform into, and it's different per keyblade," Nomura said. "There are at least two different forms it can take. For example, in Toy Story, you saw the giant hammer and then the drill. Another one was at the beginning of the trailer where you saw Sora shoot arrows and it [then] turned into a bazooka, so there are two different forms. It also has multiple layers in terms of transforming; you start out with your first phase of transformation, and if you successfully connect your combos, the [next] transformation will happen."

Nomura couldn't share further information about how transformations are activated, adding that, "We're still trying to finalize the specifications, but that being said, it is subject to change, so it might evolve into something even more impressive."

Nomura on Summons

Nomura couldn't share much information about how summons will work, but said that, "If I could provide a glimpse, I've made it more pretty. Not just the literal modeling, but it's more about how we're expressing it that has become more pretty."

Nomura on Interactive Environments

"It's a new mechanic that we're implementing in Kingdom Hearts III," Nomura said in regards to interacting with the environment, such as Sora running up cliffs and jumping on floating rubble in the Hercules world. "The Japanese name is Athletic Flow. I don't know what the English final name is just yet. It's based on the Flow Motion mechanic, and it's basically revamped and introduced as a new mechanic in Kingdom Hearts III. You'll be utilizing the environment to propel yourself to an area that you're not normally able to go to, or again, running up the cliff during battle. Those can be expected in each of the different worlds you'll be traversing through."

Nomura on How Long Development is Taking

"A lot of people have been mentioning and making it sound like 'Oh, Nomura's taking too much time,' and it hurts," Nomura said. He continued that the decision to switch development to Unreal Engine 4 was made by those higher up than himself after about a year of development, which caused extensive delays. Certain timing and resource-related challenges within Square Enix also played a role.

"There was a decision made to change to an external [engine]…Unreal Engine 4," he said. "So we switched over to that. Unfortunately there was a bit of time that needed to be rewinded and started over. So there was a bit of a setback there, but it was a decision that the company had to make, so it was inevitable."

He continued, "We had a plan of the period that it's going to take for us to create the content at the start of the project, and we laid out, after such and such years, we would need to add more personnel resources. We had submitted it to our headquarters and had it approved, but internal personnel is very limited, and there are various different projects that happen within our company, so unfortunately timing did not work out. So we had to make due with the timing that was appropriate for the company…the company makes the decisions, so unfortunately sometimes it is out of my control."

Nomura emphasized that the long development period was not a result of development problems or decisions made by him or his team. "I wanted to emphasize that it wasn't a problem on our development teams," he said. "It just happened that way, and there were some decisions that the company had to make, and it just didn't work out for certain timings that we were hoping to hit.

"It's kind of out of my hands. I mean, yes, time has passed. But it's out of my hands."

Nomura on Revealing Worlds Before Release

"I don't think we'll be keeping any worlds secret until the game is released," Nomura said. "I think we will be introducing them leading up to launch. Nowadays games can add content on after the fact through DLC content, so there's no need to hide any worlds."

Nomura on Downloadable Content

"Nothing is set in stone, and I'm afraid we can't go into details, but I have told the team: Just be prepared to be able to accommodate for something like that," Nomura said. "We can't suddenly develop a system where we're accommodating for downloadable content. So it's not confirming or denying either way, but just so that the development team will be prepared, I have informed them of making the preparations."

Nomura on Creating the First Full HD Kingdom Hearts

"I feel like I've packed in much more fun than I had in my previous Kingdom Hearts titles," Nomura said. "Kingdom Hearts III is going to be our first full HD game in our current console generation. It does involve a lot of bandwidth and resources in order to create in full HD, so our directive was to have as many elements [as possible] of gameplay included in one single world, rather than having multiple different little worlds with few elements. We wanted to pack in as many gameplay elements and fun into a single world."

Nomura concluded, "If we are able to accomplish everything that we did plan out for, I'm pretty confident that people will enjoy and be fully satisfied with the end product."
KINGDOM HEARTS III will be available for the Xbox One®, the all-in-one games and entertainment system from Microsoft, and the PlayStation®4 computer entertainment system in 2018. This title is not yet rated. Please visit the Entertainment Software Rating Board (ESRB) website at www.esrb.org for more information about ratings.
About the KINGDOM HEARTS Series
KINGDOM HEARTS is a series of role-playing games created through the collaboration of Disney Interactive and Square Enix. Since the first KINGDOM HEARTS was released in March 2002 for the PlayStation®2 computer entertainment system, the series has expanded with several additional entries. The series celebrated its 15th anniversary on March 2017, and has sold over 24 million units worldwide.
About Disney Consumer Products and Interactive Media
Disney Consumer Products and Interactive Media (DCPI) is the business segment of The Walt Disney Company (NYSE:DIS) that brings our Company's stories and characters to life through innovative and engaging physical products and digital experiences across more than 100 categories, from toys and t-shirts, to apps, books and console games. DCPI comprises two main lines of business: Disney Consumer Products (DCP), and Disney Interactive (DI). The combined segment is home to world class teams of app and game developers, licensing and retail experts, a leading retail business (Disney Store), artists and storytellers, and technologists who inspire imaginations around the world.
About Square Enix, Inc.
Square Enix, Inc. develops, publishes, distributes and licenses SQUARE ENIX®, EIDOS® and TAITO® branded entertainment content throughout the Americas as part of the Square Enix group of companies. Square Enix, Inc. is affiliated with a global network of leading development studios such as Crystal Dynamics® and Eidos Montréal. The Square Enix group of companies boasts a valuable portfolio of intellectual property including: FINAL FANTASY®, which has sold over 130 million units worldwide; DRAGON QUEST®, which has sold over 71 million units worldwide; TOMB RAIDER®, which has sold over 58 million units worldwide; and the legendary SPACE INVADERS®. Square Enix, Inc. is a U.S.-based, wholly owned subsidiary of Square Enix Holdings Co., Ltd.
More information on Square Enix, Inc. can be found at http://na.square-enix.com/.
© Disney © Disney/Pixar
Developed by SQUARE ENIX.
CRYSTAL DYNAMICS, DRAGON QUEST, EIDOS, FINAL FANTASY, SPACE INVADERS, SQUARE ENIX, the SQUARE ENIX logo, TAITO and TOMB RAIDER are registered trademarks or trademarks of Square Enix Holdings Co., Ltd. All other trademarks are properties of their respective owners.