The Seven Deadly Sins PS4 Screenshots Show Meliodas, Ban, Gowther, And King In Action
Wednesday, August 9, 2017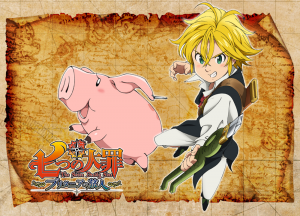 Bandai Namco shared the latest on the upcoming action game on PS4, The Seven Deadly Sins: Knights of Britannia, with new screenshots showing plenty of action from Meliodas and friends.
Get the details below.
· "Super" Battlefield Destruction

Extremely flashy battles will unfold in fights against the enemies that stand in your way. The story will develop as rumors circulate throughout the people of Britannia. By making full use of special moves, you can enjoy battles full of intensity.

—Destroy the battlefield while fighting! "Good things" may even occur the more you destroy the battlefield.




—By obtaining "Magic Crystals," you can strengthen the character's skills to your liking.

Super special moves called "Deadly Sin Shots," which are ultimate magic moves that fill the screen, are being prepared for each character.

—Meliodas' Deadly Sin Shot


Other than Deadly Sin Shots, there are a variety of big techniques.

—King / Harlequin's Special Move