Tsuki ni Yorisou Otome no Sahou: Hidamari no Hibi coming to PS4 in Japan on October 26
Tuesday, July 4, 2017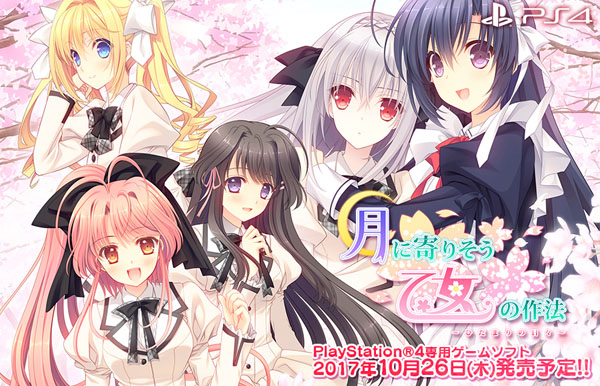 Dramatic Create is bringing Navel's Tsuki ni Yorisou Otome no Sahou: Hidamari no Hibi to PlayStation 4 in Japan on October 26 for 7,400 yen at retail and 6,400 yen via download, the publisher announced.
Tsuki ni Yorisou Otome no Sahou: Hidamari no Hibi originally lanunched for PS Vita in Japan in November 2016. It is a port of the 2012-released PC love adventure visual novel Tsuki ni Yorisou Otome no Sahou with an original new scenario handled by the staff behind the PC version, a fully voiced protagonist, the April Fools' extra scenario, and more.
The PlayStation 4 version further adds a new main visual, 1080p graphics support, and additional voices to the image viewing mode (Luna, Resona, and Asahi [Yuusei] comment on each event scene).
Title
Tsuki ni Yorisou Otome no Sahou
Aliases
Tsuriotsu
Length
Medium (10 – 30 hours)
Developer
Navel
Publishers
Dramatic Create & Navel
KID Fans Club
Relations

Sequel

Otome Riron to Sono Shuuhen -Ecole de…
Tsuki ni Yorisou Otome no Sahou 2

Available at
Japanese PlayStation Vita version at Play-Asia.com for US$ 69.99 »

Description

Navel tenth anniversary project. The art is done by Nishimata Aoi and Suzuhira Hiro is back. Multiple writers including Ou Jackson.

Coming from a prestigious family, that didn't want him, in the financial world, Yuusei had been home-schooled strictly and sheltered all his life. Even though he excelled at everything, it was his dream to live a life of a commoner. One day his chance came and he changed his identity to Asahi and entered Fairy Girl's School, which specializes in female fashion for the rich. As part of his plan, he became the maid of his classmate Luna and worked at her home Sakura-yashiki. Also living there were a proud exchange student from Switzerland, Ursule, a Yamato Nadeshiko, Mizuho, and his childhood Minato, who had feelings for him and was also the only one who knew his true identity. With her help, will he be able to manage his double life in the school and his new home?