DISNEYLAND ADVENTURES REVIEW
Thursday, November 2, 2017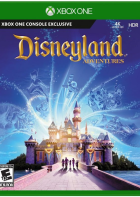 | | |
| --- | --- |
| Game Name: | "Disneyland Adventures" |
| Platforms: | Xbox One family of devices and Windows 10 PCs |
| Publisher(s): | Microsoft® Studios |
| Developer(s): | Asobo Studio |
| Genre(s): | Open world |
| Release Date: | October 31st 2017 |
| ESRB Rating: | E10 + |

---
Asobo Studio, has made a nearly perfectly to scale rendition of Disneyland. You can walk from the main gate of the park all the way back to Mickey's Toontown, and everywhere in between. I'm amazed at how well Disneyland is presented. Nearly every inch of the park is in here, save for certain shops, restaurants and restrooms. Even things that didn't need to be rendered, like the FastPass alcove for rides, are in here. The ambient music features the same tunes you hear in the actual park. Everything is in place and detailed to perfection, down to the location of the more iconic "Hidden Mickeys." Matterhorn rises up over Fantasyland. You can walk through Sleeping Beauty's castle to find Snow White waiting for you in front of the carousel. While it was sometimes disappointing that I couldn't, say, grab a bite to eat at The Hungry Bear, or watch Captain EO, that really just stems from the fact that Disneyland looks so realistic that it feels like I could do everything.
---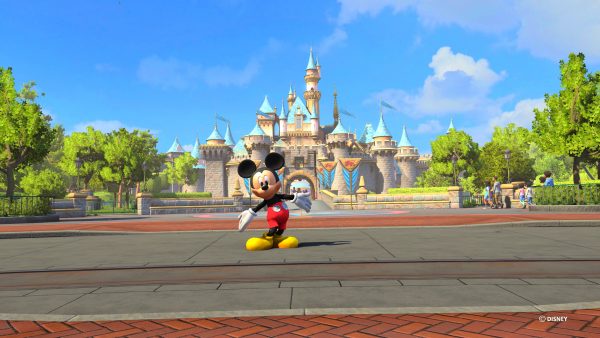 ---
Probably the best part is that Disneyland seems to be permanently in the off-season. There are plenty of families walking throughout the park (holding conversations that you can eavesdrop on), but the lines are short. You want to ride Splash Mountain? You don't have to queue up behind tourists for over two hours, or get a FastPass to return at 10:30 pm. You just go.
---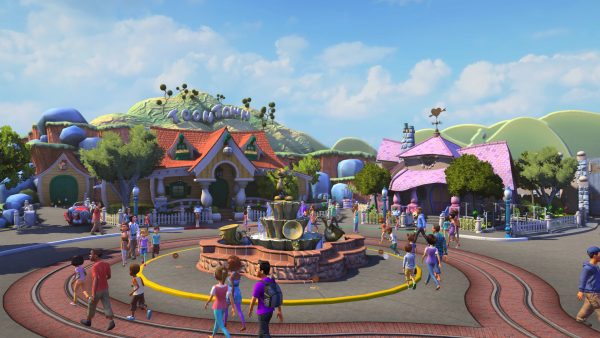 ---
There are two major things to do in virtual Disneyland: interact with your favorite characters, and go on rides. For the former you're not just taking a photo with an actor in a costume (though Disneyland has some pretty great character actors), this is the real deal. Mickey, Donald, Goofy, Belle, Cinderella, Stitch, Tigger and a ton more are sprinkled throughout the park. They give you quests, hug, dance, high-five, sign autographs, and take photos with you. It's like when you were a little kid and all these characters seemed real, except you don't grow up and get jaded.
---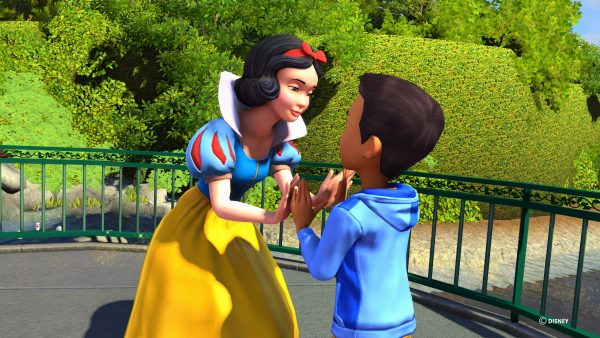 ---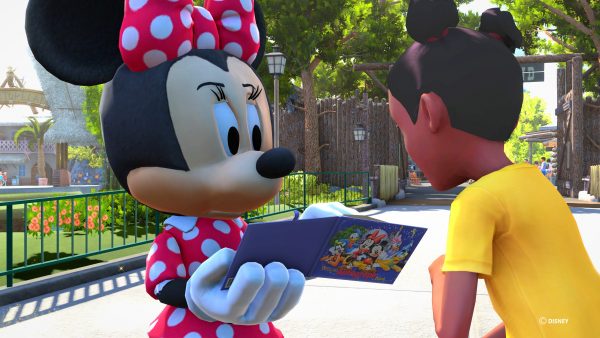 ---
The rides serve as mini-games, and most of the major attractions are represented. Matterhorn turns into a bobsled race, Space Mountain is a shooter. The amount of enjoyment that can be derived largely depends on your age, the different games all offer multiple levels of fun and challenge. I was not as amused as the small children next to me while playing hide and seek with the cast of Finding Nemo, but they were enthralled. On the other hand, I carried most of the weight when it came to maneuvering a briar patch obstacle course with Br'er Rabbit. Disneyland Adventures is best enjoyed with multiple people of different ages. And every mini-game has multiple levels that play differently, offering new goals, high scores, and cutscenes. There is a very substantial amount of gameplay in here, far more than one might expect.
---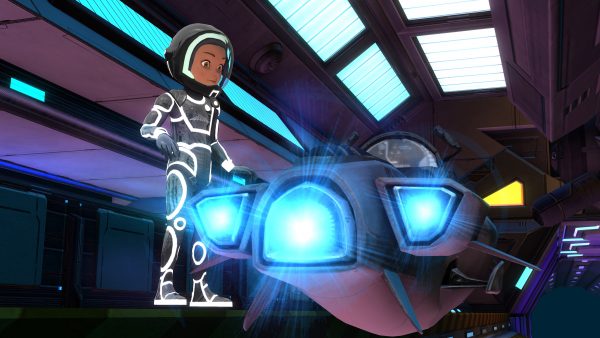 ---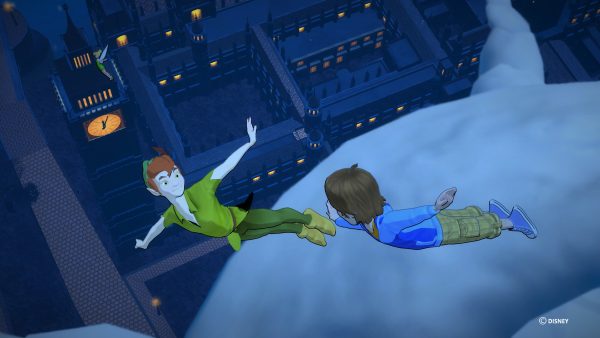 ---
Between the Hidden Mickeys, pins, costumes, autographs, and photos, there's a ton of stuff to collect and discover within the park. Most of it comes very naturally through the game, eschewing the needless collectible quests in favor of a more organic progression.
---
THE VERDICT
Disneyland Adventures is without a doubt one of the best kids games ever made, and may top the list for many. There is a prerequisite love for Disney needed in order to fully enjoy it, but anyone who has been to Disneyland (or wanted to go, but lives somewhere far away where all they have is a Busch Gardens), the game captures the park amazingly well. The mini-games, characters, side quests and collectibles offer up more gameplay than nearly any other family game on the market, and the game is cheaper than a single person admission to the park. If you cannot afford to go to Disneyland, this really is the next best thing.
---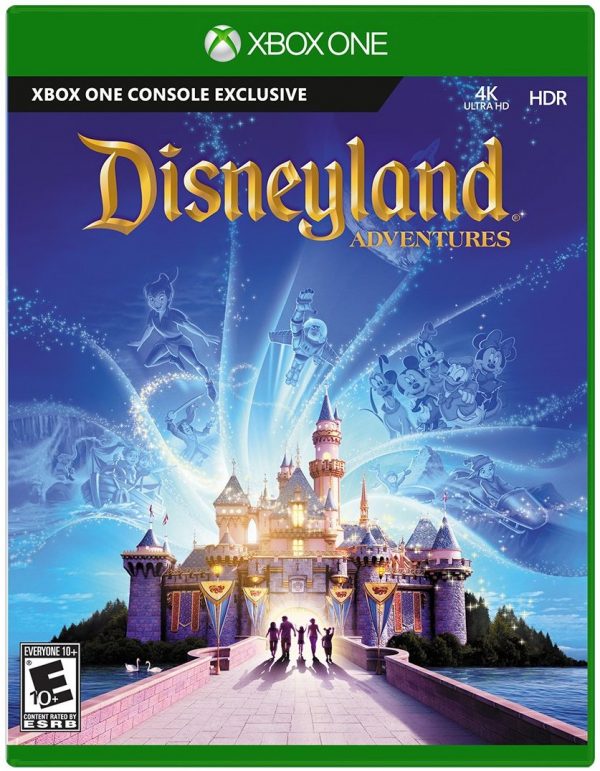 ---
Product Overview:
Experience the magic of Disneyland like never before. Take a journey where stories come
to life and dreams come true, right in your living room. Explore Disneyland park — from
Main Street U.S.A. to Critter Country — join Peter Pan to battle Captain Hook, high-five
Mickey Mouse or hug Snow White.
"Disneyland Adventures" allows children, families and Disney fans of all ages to explore
Disneyland park, step into adventures based on attractions, engage in challenging quests
and interact with beloved Disney characters remastered in 4K Ultra HD and HDR
---
Features:
Create memories. Bring a friend along for the experience through cooperative gameplay
as you explore timeless worlds, relive your fondest memories, or embark on a new
adventure in Disneyland park.
Discover Disneyland park. From Main Street U.S.A to Critter Country, explore all the
magical lands of the park as you engage characters, jump into attractions and collect
Hidden Mickeys, pins and much more. Don't forget to stop into one of many Disneyland
stores to purchase a special souvenir.
Enjoy 18 iconic attractions. Fly with Peter Pan and defeat Captain Hook in Peter Pan's
Flight, ski the exhilarating slopes of the Matterhorn, dance with the Mad Hatter in Alice in
Wonderland and conduct your own fireworks display over Sleeping Beauty Castle.
Capture Special Moments with Disney Characters. Collect autographs from Disney
characters, say hello and give them a hug, dance with Mickey Mouse, and take on
challenges when you accept up to 100 quests from beloved Disney characters. There's no
shortage of activity when you interact with more than 35 Disney characters.
Collect and unlock. Collect Disney-themed items, rewards and achievements as you make
your way through the park to discover new game experiences, including themed parades
and firework displays.