It's-A-Box!
Friday, December 8, 2017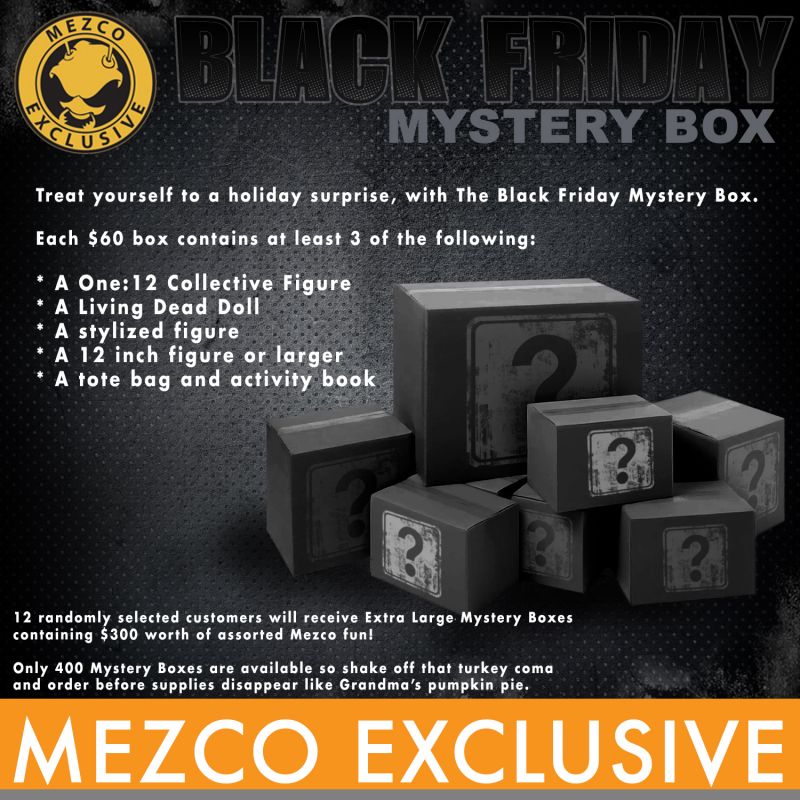 The Mezco company decides to do a mystery box and it is something to get! If you didn't grab one, then you really missed out!
Treat yourself to a holiday surprise, with The Black Friday Mystery Box.
Each $60 box contains at least 3 of the following:
• A One:12 Collective Figure
• A Living Dead Doll
• A stylized figure
• A 12 inch figure or larger
• A tote bag and activity book
12 randomly selected customers will receive Extra Large Mystery Boxes containing $300 worth of assorted Mezco fun!
Only 400 Mystery Boxes are available so shake off that turkey coma and order before supplies disappear like Grandma's pumpkin pie.
All of this for only $60 bucks?? How could you pass up something so good? Well, we couldn't and let us tell you it was way better than anything we ever expect! One of the items we happened to score in our mystery box was a One:12 Modern Captain America! YAAAAS! The sold out, long gone Capt!
Each box is worth much more than the $60 price tag, and if you are a fan of Mezco products and toy lines this will not disappoint at all! If you were one of the lucky 400 to get in on this amazing deal, awesome! If not, keep checking back on the Mezco website for future deals.
I was honestly surprised these lasted 2 or so days and didn't sell out within hours.
I can tell that the next time Mezco decides to do this again it will sell out even fast! So be ready!