Mezco One:12 Collective Deathstroke Review
Tuesday, January 23, 2018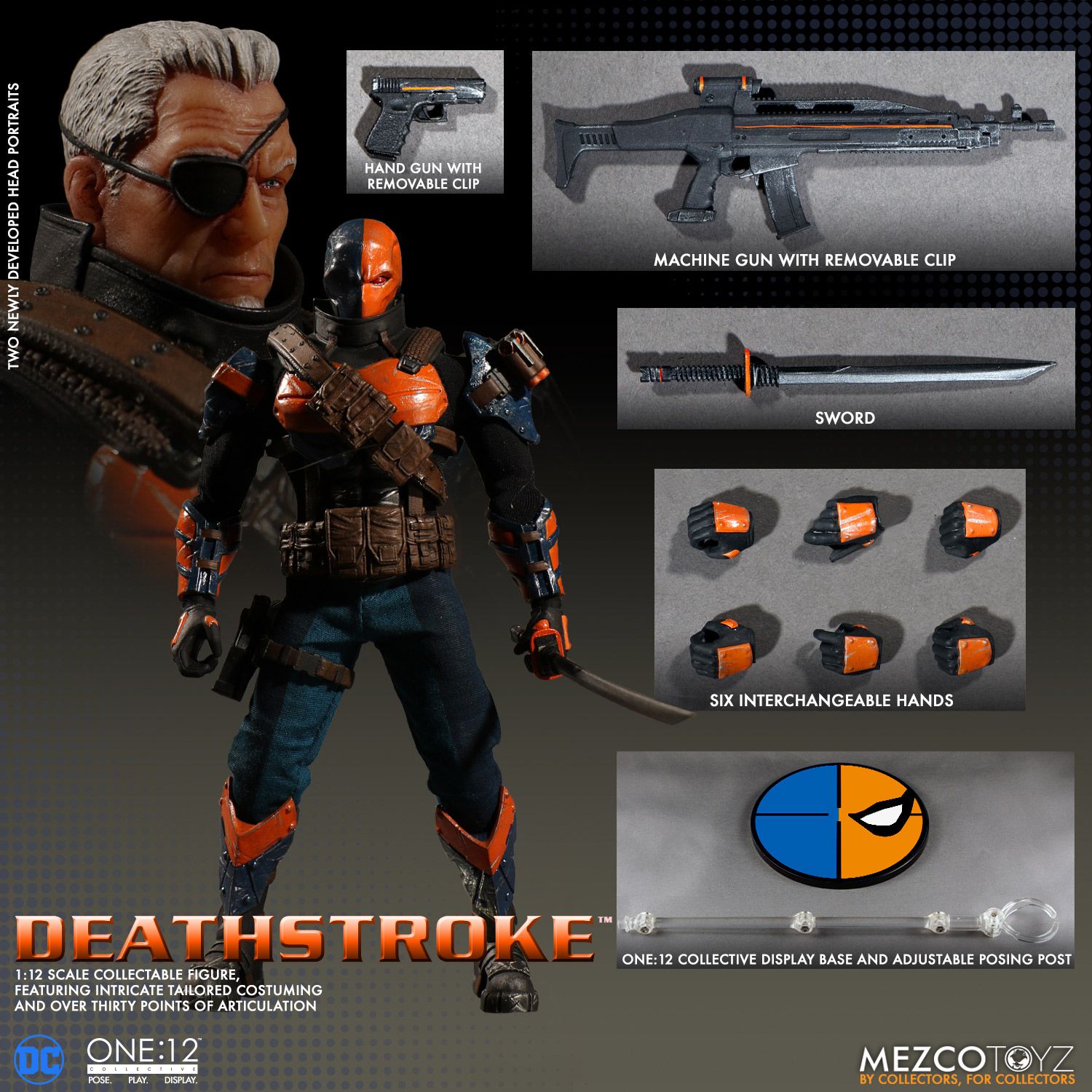 Slade or Wade?
Talk about a perfect timing for a great figure! Mezco added Deathstroke to its One:12 Collective line up and it was a great choice! With all the accessories and bonus's so let's take a look at the figure its self and what comes along with it!
The box and packaging its self is amazingly done, with the Deathstroke logo proudly displayed on the front of the box. With the box having a slip cover that can be removed to reveal a widow panel that can be used to display the figure in the package without having to remove it, (yes, Mezco thinks about it's buyers and collectors) so you can take the figure in and out of the package without worry.
The amount of detail put into this figure is astounding. The time and effort put into the Mezco One:12 line deserves so much credit and we are giving the sculptors a shout out for their hard work! As you can she from the photos below you can make some amazing poses and scenes for you own collection and photography!
The poses you can recreate and almost duplicate from any page of the comics, and if you pair this bad boy with any other Mezco DC figure you have the ultimate combo! If you missed out on this, you still can join the waitlist, but make sure that you keep checking the Mezco site to get these ordered. Because as all the One:12 line they sell out fast!
A military man, Slade Wilson was recruited into the special ops unit Team 7, where he participated in highly dangerous classified missions. There he underwent an experimental procedure that granted him enhanced speed, strength and intelligence, effectively making him the world's greatest soldier.
Following the disbandment of Team 7, Slade became Deathstroke, a mercenary-for-hire. He quickly became known in the criminal world as the man to call when you want to make sure the job will get done. Deathstroke continuously pushes himself further and further with an unwavering focus on getting the job done no matter what it takes, no matter how ruthless, deadly or manipulative he must be. He is, without question, the world's greatest assassin and one of the most feared people on the planet.
THE ONE:12 COLLECTIVE DEATHSTROKE FIGURE FEATURES:
• Two (2) newly developed head portraits including:
o Helmeted/masked portrait
o Unmasked portrait
• One:12 Collective body with over 30 points of articulation
• Hand painted authentic detailing
• Over 17cm tall
• Six (6) interchangeable hands including
o One (1) pair of fists (L&R)
o One (1) pair of sword holding hands (L&R)
o One (1) pair of gun holding hands (L&R)
COSTUME:
• Armored collar
• Shoulder pads with sculpted grenades
• Chest armor
• Abdominal plate
• Vambraces
• Cross body strap
• Belt
• Thigh holster
• Shin armor with ankle guards
ACCESSORIES:
• One (1) machine gun with removable clip
• One (1) hand gun with removable clip (gun fits in thigh holster)
• One (1) sword and sheath. Sheath attaches to the back of the cross body strap
• One (1) One:12 Collective display base with logo
• One (1) One:12 Collective adjustable display post
Each figure is packaged in a deluxe, collector friendly box, designed with collectors in mind there are no twist ties for easy in and out of package display.